Crewe 2 - 1 Burnley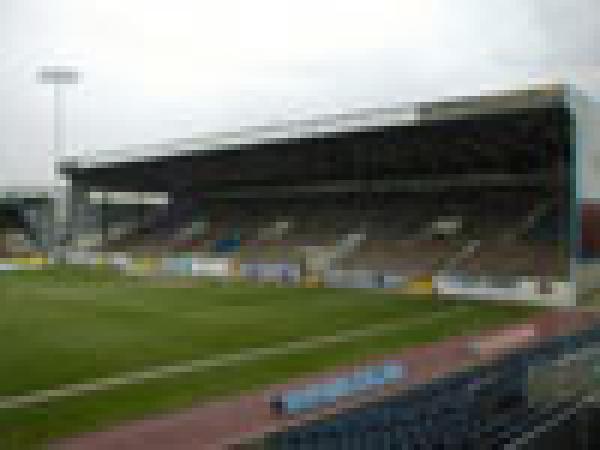 By TheLongside.co.uk
August 9 2005
Burnley's first game of the season against Crewe at Gresty Road ended with all three points going to the home side following a late minute goal.
Crewe


2 - 1
(1 - 0)

Burnley


B Jones 44
D Vaughan 89




G Noel-Williams 67

Bookings:
R Walker 30
L Varney 76




Bookings:
J McGreal 43
W Thomas 81
M Hyde 87
Starting Line-Ups
Crewe

Burnley

B Williams
D Moss
A Moses
R Walker
A Tonkin
K Lunt
B Jones
D Vaughan
L Varney
S Jones
E Johnson

Subs:
R Turnbull
S Foster
M Rivers
G Roberts
M Higdon.

D Coyne
F Sinclair
J McGreal
W Thomas
G Branch
W Elliott
J O'Connor
M Hyde
G O'Connor
A Akinbiyi
G Noel-Williams

Subs:
B Jensen
M Duff
M Yates
C McCann
K Lafferty
Referee: Colin Webster (Shortley Bridge)
Assistant Referees: Alan Sheffield (W. Midlands) and Rob Steans (Leicestershire).
4th Official: Colin Harwood (G. Manchester)
Attendance: 8006
Match Round-Up
Wade Elliott and Micah Hyde both featured in the starting line-up with Michael Duff starting on the bench. After Clarets fans were left wondering all week who Steve Cotterill would choose to start as goalkeeper, Danny Coyne who made some good saves during the first half, started leaving Jensen on the bench. Crewe were putting the pressure on putting some good crosses into the box and managed to grab a goal from 18-yards out through Billy Jones following a Lunt freekick just before half time. The 1-0 half time score line reflected an half in which Burnley only managed 3 shots compared to Crewe's 14, despite a lively start from the Clarets.
The second half was as lively as the first with the Clarets once again starting lively, Akinbiyi narrowly missed scoring from a header, 8 minutes in, which should have been the equaliser. The pressure building from Burnley paid off with the equaliser coming from a Gifton Noel-Williams header. The game continued to be competitive, with some hard challenges resulting in bookings. Wayne Thomas was lucky to get a yellow card for a challenge involving his elbow. Once again though Crewe came back with Vaughan scoring before added time to grab the points for Crewe. The Clarets though could have seen another Noel-Williams goal during added-time as the ball struck the post.
Crewe
B Williams, D Moss, A Moses, R Walker, A Tonkin, K Lunt, B Jones, D Vaughan, L Varney, S Jones (74 M Rivers) , E Johnson (82 M Higdon)
Subs: R Turnbull, S Foster, M Rivers, G Roberts, M Higdon

Burnley
D Coyne, F Sinclair, J McGreal, W Thomas, G Branch, W Elliott, J O'Connor, M Hyde, G O'Connor (90 K Lafferty) , A Akinbiyi, G Noel-Williams
Subs: B Jensen, M Duff, C McCann, K Lafferty, M Yates
Stats
Possession:
Crewe 60%
Burnley 40%

Shots:
Crewe 16
Burnley 12

Corners:
Crewe 8
Burnley 9

Fouls:
Crewe 9
Burnley 14
Steve Cotterill's Post Match Comments:
"Of course we're disappointed,"
"I thought in the second half, we had done enough to get a result. Their keeper pulled off some great saves, at the death from Gifton and then one from James O'Connor and Ade should have scored with a header from Garreth O'Connor's cross."
"If those chances go in, we're home and dry almost but to be fair to Crewe, the scoreline probably suggests that they were a touch better than us over the 90 minutes and they finished the game strongly. We gave away a couple of needless free kicks just before the goal and we've just got to make sure we learn our lessons from today."
"I thought today our big, strong players weren't quite as big and strong as they needed to be and some of our footballers didn't play football when we needed them to.
"I didn't think we played at all well in the first half, we were a bit too back-to-front too quickly and we spoke about that, but we were better in the second half and we've got to make sure we're better again on Tuesday night."
Other Full Time Scores:
Crystal Palace
Derby
Hull
Ipswich
Leeds
Norwich
Reading
Sheff Utd
Southampton
Stoke
Watford

1
1
0
1
p
1
1
4

0
1

-
-
-
-
-
-
-
-
v
-
-

2
1
0
0
p
1
2
1

0
2

Luton
Brighton
QPR
Derby
Millwall
Coventry
Plymouth
Leicester
Wolves
Sheff Wed
Preston