1959-60 Series - Nottingham Forest v Burnley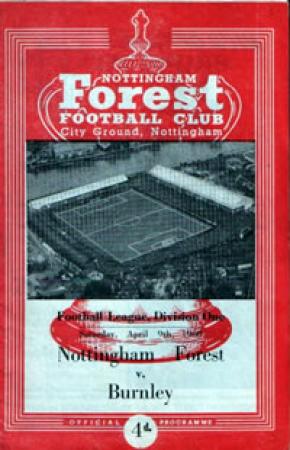 By 5960 Team
April 20 2007
The Clarets face an away trip to 17th placed Nottingham Forest in today's edition of the 1959-60 Series. The last time the two teams met at Turf Moor, the Clarets won, beating Forest 8-0. With the Clarets nearing the top of the table, could the Clarets make it another double?

1959/60 Series - Nott. Forest v Burnley
Saturday 9th April 1960
Referee: Major. C. H. Dennis (Ashtead)
Linesmen: Mr. R. A. Bedford and Mr. C. W. Davis
Crowd: 24,640

Could this game just be another double for the Clarets, after the 8-0 home drubbing of Forest earlier in the season? The answer was yes, but a victory only by the odd goal. Forest came into the game currently occupying 17th place in the League and to be fair to them, they were not enjoying the best of seasons.
The game itself was definitely not one of the best, Burnley's stalwart defence managed to snuff out any threat on goal that came their way, McIlroy was named as Man Of The Match after putting in another one of his masterful displays. In fact it was from one of McIlroy's superb crosses that Pointer put away the only goal of the game. Pretty or not it was another two points in the bag and Burnley continued their march towards their goal of the League Title.
Programme Review
Team changes to those printed in the programme - Marshall in for Elder, Cummings in for Seith and Meredith in for Connelly (although it does state Fenton)
The Forest programme was a comprehensive and informative 16 page affair costing 4d. Inside there was a very lengthy welcome to the visitors, also contained were pen pictures, fixtures and adverts.
Next game: Burnley v Leicester City - Friday 15th April 1960.