Haysey's FC Column VI: The New Start Issue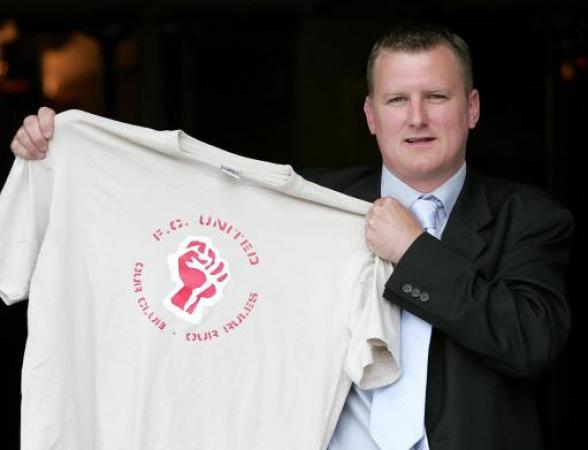 Big challenges
By Chris,
August 19 2010
After a ten month sabbatical, we're delighted to welcome Haysey back to the ManUtdWeb ranks. He rights his new column as FC United of Manchester prepare for their sixth season. The Red Rebels face a raft of challenges after last season's difficult campaign.
Many apologies for the delay in my latest column. Thanks to the editor of this esteemed website for his patience during my extended bouts of indolence. I have promised him a more regular column from now on. No pressure like...
The Difficult Fifth Season
So where did I leave it? Oh yes, we were doing rather well in the FA Cup and I had high hopes that this form would see us challenge for promotion. Well, err...... we sort of bombed out of the FA Cup at Northwich. It was a tight game with neither side on top, soft penalty given away and before we know it we are looking at a 3-0 defeat.
In the league, we looked like we were going to follow the same pattern as previous seasons and kick on in the New Year. That impression gathered momentum when a returning Kyle Wilson (loaned back to us for an all too brief period by Maccclesfield) insprired us to a 6-1 win at Nantwich. That was to be the seasons last high point...........
What followed was something that we had not experienced as FC United fans before but those of us over the age of 30 remembered from our Old Trafford experience circa the late 80's i.e. the season petering out to a damp squib and the team going through the motions. The nadir was our 'performance' (sic) at Burscough. As previously mentioned, our wage structure (I hate that phrase- any alternatives would be gratefully received) has stayed pretty much the same from our inception in the summer of 2005. The consequence of that is that we are not one of the lowest payers in the league in which we play.

For lads who are playing football to top up their weekly wage in order to provide for their families then you can't blame them for going for the bigger wages elsewhere. For those players for whom the financial imperative is not the only factor then we offer a chance to play in front of larger crowds than they would usually be able to at non league level. Additionally, for younger players we offer a shop window back into the professional game- witness our old boy Rory Patterson who has just signed for Plymouth Argyle and now has a number of Northern Ireland caps. Well in Rory lad.
With these constraints, FC fans are very much of the opinion that the result does not matter as much as the fact that:
i) we exist
ii) we have a team proud to wear our shirt
iii) we try to play football in the finest traditions of Manchester United
Our dismay (not abuse- we are United after all) was therefore directed at the deterioration in the players adherence to the last 2 non negotiables.
A New Start
The management made the right noises about refocusing the team for season 2010-11. I have to say that they seem to have delivered on that promise. How they have managed it within our financial constraints is to their great credit. There are plenty of new faces alongside those players who still 'got' it last season despite being surrounded by those who patently didn't realise that they were not just playing for any old club.

The signing that has personally got me excited is the signing of Michael Norton from Curzon Ashton. Van Norton has signed after what has been the longest flirtation in non league history. We have long coveted him and he has long given the impression that he wanted to play at FC. However, he was under contract at Curzon and so we could only look longingly at each other. However, on 30th June 2010 his contract expired and we have fallen into each other arms. Van the man is 30+ goal a season striker who will fire us to glory. There is no question about that...................
In addition, one of our prodigal sons Steve Torpey is currently training with us and playing in our pre season friendlies after leaving Fleetwood. Torps is patently unfit but if he gets himself into shape and hangs around then him and Norton will form quite a forward partnership.

The outcome of our pre season friendlies has been positive so far and there is a renewed optimism around the playing side that cannot just be put down to being football fans on the cusp of a new season. The lifting of the gloom was also helped by an end of season friendly with Bundesliga side St. Pauli in Hamburg and a pre season match with Northern Irish team Cliftonville. There is nothing like a Euro away to raise the sprits (or should that be to drink some spirits?)
I have been pretty damning about last season from a playing sense. However last season was probably the most important and successful in FC's history due to an announcement made over the location of our potential permanent home. We had been aware of many months of detailed dialogue with Manchester City Council over a ground within Manchester. Towards the end of the season, the ground's location was announced as Ten Acres Lane in Newton Heath of all places. Could the location be more perfect than that?
This news has refocused us all on the need to raise our part of the funding asap. To this end, the Development Fund is crucial
The Club has also announced a plan to release some community shares via the Co-op
http://www.fc-utd.co.uk/talpledge.php
Any of you reading this are more than welcome to contribute to these initiatives. As a Manchester United fan, this is your club as well.
I will keep you posted throughout the season. There are many ways for you to feel part of it this season:
Season Tickets- even if you can't make every match, the club is one again running a 'pay what you can' scheme for its Season Tickets
http://www.fc-utd.co.uk/story.php?story_id=2923
Fixtures- First Team fixtures are here
http://www.fc-utd.co.uk/fixtures.php?year=2010&team=1
FCUM Radio- there will be internet radio coverage of most matches this season
Whilst on about the radio station, I must flag up the many excellent music shows on this station every day. The Northern Lights show (7pm evety night) is well worth a listen.
FCUM TV- there will be highlights throughout the season
This season will be a season where we should mount a sustained challenge for promotion. It will also be a season that takes us another year closer to our own Mancunian abode. Get onboard and enjoy the ride............
View a Printer Friendly version of this Story.
Haysey's FC Column VI: The New Start Issue
Discussion started by manutdweb.com , 19/08/2010 11:31
manutdweb.com
19/08/2010 11:31
What do you think? You can have your say by posting below.
If you do not already have an account
Click here to Register
.
Briansmurph
19/08/2010 21:11
Great article and a very very interesting read.
Hope to see many more in the coming months mate, keep up the good work!
---
Really enjoyed this it is just a shame they are so infrequent.
Cheers for the kind comments. I have promised the editor a regular column this season. FC have won their first 2 league matches by the way. Onwards and upwards!
Briansmurph
29/08/2010 22:24
Great stuff Haysey!
---