Promotion Parade this afternoon for Doncaster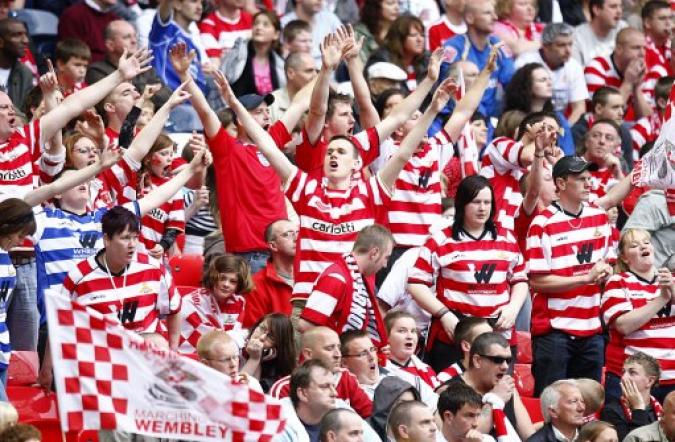 Doncaster fans
By Robbo
May 26 2008
DONCASTER Rovers have revealed that the club will hold a Promotion Parade through the streets of Doncaster this afternoon after the team clinched promotion to the Coca-Cola Championship yesterday afternoon at Wembley with victory over Leeds United thands to James Hayter's second half strike.
Sean O'Driscoll and his players arrived back in Doncaster this morning following the historic win which will see Doncaster occupy their highest league status in almost 50 years and they would like to invite the Doncaster fans along to celebrate with them.
The parade will start at 3:15pm at the Keepmoat Stadium on Monday 26th May 2008 where the management, directors and playing staff will then embark on a 45minute town tour going to the White Rose Way, before heading to Waterdale, Bennetthorpe, then a stop at Doncaster's old ground of Belle Vue will be followed by a passing of Lakeside before returning to the Keepmoat Stadium.
The team will be back at the Keepmoat Stadium at approximately 4:00pm and would like as many Doncaster Rovers fans as possible to celebrate the promotion.
If you can make it then don't miss out, it will be a FANtastic day for all involved with Doncaster Rovers Football Club. Pictures will follow on Donny Days on my return.