Leeds United: Play-Off HAYTER's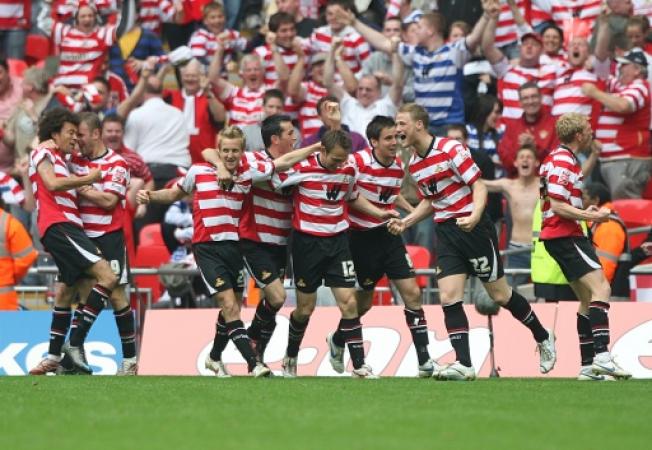 Celebrationn for Hayter
By Robbo
May 25 2008
DONCASTER Rovers are going to the Coca-Cola Championship next season following a fantastic performance leading to victory at Wembley as a single James Hayter goal was enough to condemn Gary McAllister to another season in League One, whilst Doncaster soar to the next level.
Match Report from Wembley coming soon as Doncaster Rovers seal their deserved promotion...
ABOVE: James Hayter (right) scores the winning goal after 47mins.
DONCASTER ROVERS: Sullivan , O'Connor, Mills , Hird, Roberts, Green, Stock, Wellens (71 McCammon), Coppinger (86 Guy), Price (80 Lockwood), Hayter.
UNUSED: Smith, Taylor.
GOAL: Hayter 47.
LEEDS UNITED: Ankergren, Richardson, Huntington, Michalik, Johnson, Kilkenny, Howson , Douglas, Prutton (69 Kandol), Beckford, Freedman (77 Hughes)
UNUSED: Lucas, Marques, Sheehan.
REFEREE: Andy D'Urso
ATTENDANCE: 75,132.
View a Printer Friendly version of this Story.
Leeds United: Play-Off HAYTER's
Discussion started by Donny Days (IP Logged), 25/05/2008 17:28
whitey71
26/05/2008 17:01
well done donnie
you played better on the day . . . but not over the season as you very well no . -15 . . . change of manager . . . 1 week to build a team . . . think we did well to get to the playoff final
don't you ??
---
DonnyRobbo
26/05/2008 17:03
You did extremely well, but I always has a fealing that you wouldn't cut it in the final (and that wasn't being biast), and it showed, hopefully you won't need the Play-Offs next year.
whitey71
26/05/2008 17:05
lets hope so fella . . . . we no leeds and finals dont go together
---
DonnyRobbo
26/05/2008 17:07
haha
, we've seen what you did with a 15point deduction, SHOULD be a walk in the park.
leeds are t wats
28/05/2008 12:38
deduct them 15 points ha ha ha
kiwipete
13/05/2010 09:11
finally get a rematch next season lads-bring it on-
---
IM MEMORY OF THE BEST CAPTAIN AND GREATEST MANAGER IN OUR HISTORY--RIP BILLY AND DON
2013 PREDICTION LEAGUE---5TH
The Stupidity Police
07/03/2011 17:11
aye moody, a bit like the donny defense in the 2nd half last weekend!

howson, you legend!


---

Leeds, Always.

Cnut in America