Danny Murphy Blasts Stoke City Boss Tony Pulis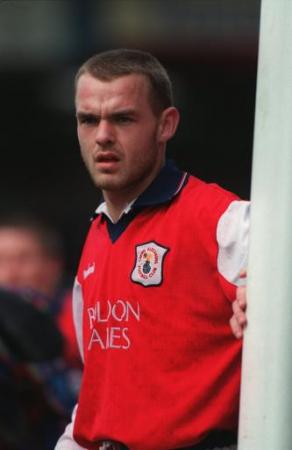 Alex Legend Muphy
By Michael Rowland
October 11 2010
Danny Murphy launches attack on Pulis... Chairman Coates retaliates
Ex Crewe star Danny Murphy has launched a stinging attack on a host of Premier League managers and clubs. Murphy is angry at the "brainless" tackling of some of his Premier League colleagues and has accused Stoke boss Tony Pulis of excessively firing up and installing a win at all attitude amongst his squad.
Murphy said: "The pace some of the players are going into tackles at is ridiculous, there are no brains in the players doing that. I don't believe they are going out to break the legs of their opponents but there's no logic or intelligence in what they are doing. If you're going in at a certain pace and don't get it right you are going to hurt someone. Players need to be more intelligent, especially the ones who are doing it repeatedly. They are culpable in that."
Murphy stated that he believed that Premier League bosses were highly responsible for the spat of recent horror challenges occurring in recent weeks, slating the over aggressive style of Stoke City, Blackburn Rovers and Wolverhampton Wanderers: "You get managers sending teams out to stop other sides from playing, which is happening more and more. Stoke, Blackburn and Wolves, you can say they're doing what they can to win the game, but the fact is that the managers are sending the players out so pumped up that inevitably there are going to be problems."
"The thing I think people miss is that it's the managers who dictate what the players do and how they behave. If you have a manager in control of his team, who doesn't allow these things to go on you have a more disciplined team."
Murphy then went on to explain some of the changes he felt were much needed in the game: "I think there's an argument for retrospective punishments. Referees can't always get it right. It would help if there was a board of ex-professionals who know what was a bad tackle or whether a decision was right or wrong. Then the people who deserve to get punished will get punished. It's not just fouls, I think we should punish cheating and simulation."
Stoke City chairmen Peter Coates retaliated in bullish manner labelling Murphy a hypocrite. Speaking to The Sentinel Coates stated: "There's a lot of nonsense talked about this. We don't condone bad tackles, nor I think do other clubs.We are a strong team, we are competitive and we are fair. That is as it should be".
"Danny himself got booked for aggressive behavior in the game against us. He himself is a pretty competitive player. I bothered to look at his record and he's got three red cards and 65 yellows, so he's not a shrinking violet."
View a Printer Friendly version of this Story.
Danny Murphy Blasts Stoke City Boss Tony Pulis
Discussion started by Top Crewe (IP Logged), 11/10/2010 14:55
Top Crewe
11/10/2010 14:55
What do you think? You can have your say by posting below.
If you do not already have an account
Click here to Register
.