Burton Albion 2-0 Exeter City - Report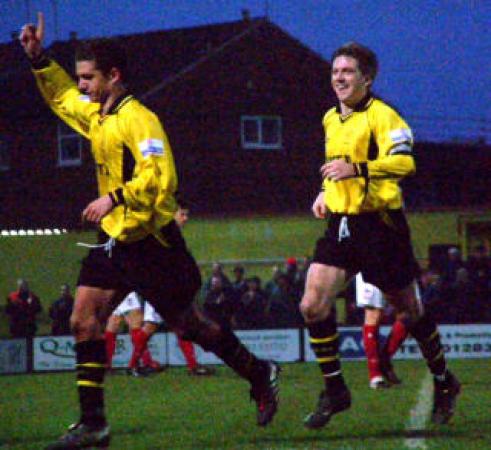 By Scott Chambers
February 14 2006
With bogey side Morecambe out of the way, Burton turned their attention to Friday nights game against Exeter. Earlier in the season Burtons trip to top of the table Exeter ended with a great 2-1 win. Burton fans will be equally pleased with this result as they edge towards the playoffs. More players were struck down with flu. This time skipper Darren Stride was out of the side and Ryan Austin also missed out. They started on the bench however. Jon Shaw dropped back into midfield allowing Chris Moore to make his first start upfront alongside Harrad. Hall returned from illness and replaced Andy Ducros on the wing. Gary Rowett filled in at centre back for Austin.

From kick off Burton put on a great show for the fans as they played some fantastic football which inevitably would bring 3 points against a rather poor Exeter side. All areas of the squad performed admirably throughout the game and playoffs now look like a realistic aim if these performances continue.

Burton started superbly and Chris Hall forced a good save out of Exeters Paul Jones in the 3rd minute. Soon after Hall did more work yet again to set up Harrad whose powerful effort hit the underside of the bar and bounced safely back into open play.
Burton continued to dominate and were always quick to attack. Andy Corbett going forward well. Chris Moore had his chances but put a header just wide.

All Exeter could produce was route one football as they played the ball straight down the middle up in the air. The experienced pair of Tinson and Rowett dealt with this brilliantly and Rowett in particular was outstanding all game. Well every single player was outstanding!

There were a few tense moments towards the end of the first half however as Kris Taylor headed against his own bar while trying to clear. Jon Challinor somehow put the rebound wide from just a few yards out.

In the 2nd half it was all Burton yet again. Exeter could only manage a pathetic strike from Jake Edwards which gave Saul Deeney no problems whatsoever. Saul was enjoying the fact that he was safe from pitch invaders on home soil.

Keith Gilroy then produced 3 minutes of excellence. Scoring Burtons first goal with a great solo effort. The tricky winger ran at the Exeter defence, turned perfectly past the last man and placed a great strike in the bottom corner from the edge of the box. Fantastic Stuff!

Burton didnt sit back on the slender advantage and doubled it just over a minute later. Gilroy once again was a key part in the goal. He once again ran at the Exeter defence who could only bring the irishman down just outside the box. Gilroys perfect freekick found an unmarked Shaun Harrad who headed home from close range.

Burton then seemed to slow down the game but still Exeter could do nothing. They continued to play route one football which Rowett dealt with easily. Nothing was getting past him. Moore and Harrad worked well together upfront causing the Exeter defence plenty of problems.

It was Burtons night as Saul Deeney easily kept out a late shot from Exeters Craig Farrell. Burton earn 3 points and move into the top half of the table - League Two, here we come!