Morecambe 3-1 Burton Albion - Report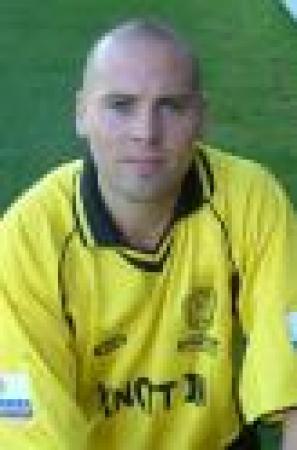 By Scott Chambers
February 14 2006
Its now 8 defeats in 8 out of Burtons conference meetings with Morecambe. But Burton have every right to be proud of their performance but things just didnt go their way on the day. 2 late goals sank the Brewers after Durcos' equaliser. We'll beat them one day! A large number of Burton fans made the long trip to Morecambe last saturday to watch the Shrimps beat Burton yet again. Morecambe was a nice place to visit and despire the result it was a strong performance from the Brewers who gave everything but didnt get anything back.

The good game was unsettled by a pitch invader who managed to run the length of the pitch and throw a couple of objects at Burton keeper Saul Deeney without being stopped. Luckily he had an embarassing aim and missed with both throws but it probably shook Deeney up a bit after that.

Burton were forced to make 1 change from the great victory at Grays midweek as Chris Hall was out with illness. Darren Tinson returned to the side after making a recovery. Andy Ducros went out wide to fill in for Hall.

Both sides were quiet in the first half and Morecambe looked the better side. Both sides knocked the ball around well and on the ground, playing good quality football. Neither side looked like getting forward however.

Morecambe gave Deeney a bit of practice with an optimistic 30 yard shot early on. They looked more dangerous a few minutes later when a powerful strike went just wide. Burton looked dangerous from set pieces but Morecambe defended well.

Then the pitch invader struck! Leaving Deeney and the whole side a little shaken. Morecambe must be used to that sort of incident as it didnt affect them and they took advantage of Burtons lack of concentration as Chris Blackburn put Morecambe 1-0 up.

Stride had to be replaced in the 2nd half after picking up an injury. Terry Henshaw replaced him. Albion raised their game in the 2nd half and Harrad created a couple of good chances with his pacy running. The part time aspects of the game showed though as Harrad tired himself out and was replaced by Chris Moore.

Kris Taylor formed a couple of chances. Firstly mishitting a long distance shot, then winning a freekick but curling it over the bar. Andy Ducros didnt stop running trying to create oppurtunities but they wouldnt come despite Burtons large amount of possession.

The few times when Morecambe picked up the ball they looked very dangerous. Thankfully their finishing let them down on a couple of occasions. 1 shot was blazed miles over the bar before another close range effort somehow was hit wide.

Burton kept going and finally got their reward. Chris Moore made a great impact on the game and managed to win a penalty. Aaron Webster took the penalty but Morecambe keeper Drench made a fantastic save! Unluckily though the rebound fell right to the lively Andy Ducros who made no mistake in putting Burton back in the game.

It looked like Burton would get their first ever Conference points against Morecambe but their hopes were crushed late on. Sloppiness at the back led to Stuart Barlow and Garry Thompson scoring for Morecambe, sending Burton once again home empty handed.

The result was rather flattering for Morecambe who were matched by Burton for much of the game. Burton put in a gutsy performance though and may be pleased that Morecambe move 1 step closer to promotion. 6 points could be saved next season if Morecambe are no longer a Conference side.