Burnley 0 Manchester City 1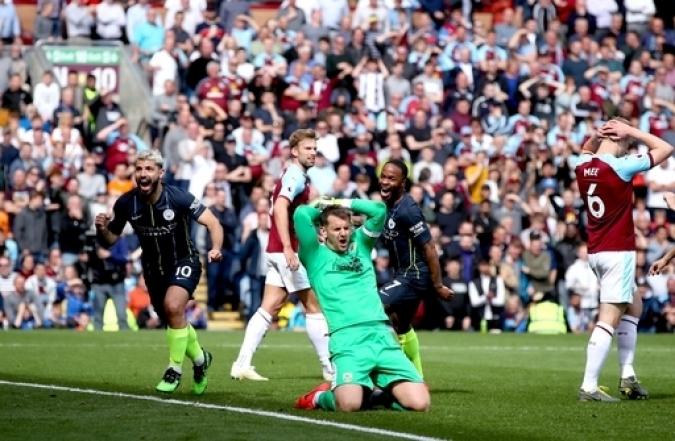 By Burnley FC
April 28 2019
The Clarets will welcome the Premier League title winners – be it Manchester City or Liverpool – to Turf Moor again next season after their top-flight status was secured over the weekend.
And while Burnley's remarkable record of having beaten the defending champions in each of their four previous Premier League campaigns came to an end, Sean Dyche's men can rightly celebrate their achievement of making sure they will again rub shoulders with the elite again next term.
That will allow Dyche to add significantly to the 150 games as a Premier League manager he reached with the visit of City, whose 63rd-minute winner from Sergio Aguero took them back to the top of the table.
And while the three points put Pep Guardiola's side within touching distance of back-to-back titles, the Clarets can proudly look forward to a fourth successive top-flight campaign for the first time since the start of the 1970s.
Following Cardiff's failure to beat Fulham 24 hours earlier, the Clarets knew before kick-off their efforts in an inspired second half of the season had already killed off even the remotest prospect of being dragged into the bottom three.
But there was no downing tools as they did their bit to keep the title race on edge by making life difficult for the champions.
To read the full match report please click on the link below;
View a Printer Friendly version of this Story.
Burnley 0 Manchester City 1
Discussion started by TheLongside.co.uk , 28/04/2019 16:21
TheLongside.co.uk
28/04/2019 16:21
What do you think? You can have your say by posting below.
If you do not already have an account
Click here to Register
.
Foreverclaret
28/04/2019 16:22
Well done boys great defensive display, Ben Mee awesome, very unlucky not to get a point just beaten by the width of a ball.
Foreverclaret
28/04/2019 17:48
PEP, "the pitch was so dry and the ball had problems to move, the grass was high, of course it was an idea from them"
I cannot believe he said that no need for it, whingeing teewat.
not sure of the rules on pitches but I thought games were meant to be played on a ' level playing field ', but I've seen pitches up here being unevenly watered at half time, is it to get an advantage? is it illegal? When I say up here, I mean Dens and I think we have only won one home game all season.🤔perhaps we should have changed the groundsman instead of the manager.
So_Cal_Claret
29/04/2019 03:17
30 years from now, we will be telling our grandkids about the day the mighty City and Pep resorted to 4 CBs and wasting time by the corner flag as they were scared of lil' ol' Burnley.

Two defensive masterclasses put on by the boys in the last two games. We must be horrible to play against - I love it! Add a little creativity in midfield and touch more quality up front and we'll be alright.
Brian O'Neil
29/04/2019 23:16
McNeil is definitely creative but he was otherwise employed defending against an oustanding team of world class players, We did pretty good....the fact they had fear of us even in the dying seconds which was mirrored by partisan commentators is something our squad can justifiably be proud of. More of our squad have performed well beyond expectations than those underperforming. I actually thought we would be more likely to have got something out of this game than not and I ecpect the same from our remaining 2 games. What a difference since Xmas.Big pat on the back to all the staff and players, you have done us proud imho.
Sorry, only registered users may post in this forum.