Wondrous Wolves, but Ashen Gaze from Bristol City fans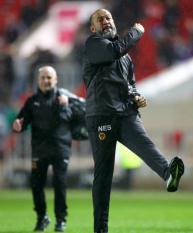 Nuno a winner at Bristol
By Ivybridge Wolf
June 22 2018
Another chance to re-live that magical night at Ashton Gate with a first hand account of the three points gained by Wolves from Molineux Way's intrepid roving reporter Ivybridge Wolf
Oh what night,
Late December back in twenty 17!
Drove so far to see us beat City,
What a match, oh what a sight!!!

OK, maybe not the best rehash lyrically but any football division has to be won over four seasons (see what I did there?), and at the turn of the year we are top, 10 points clear and deservedly so.

We are a really decent side and for me this makes it 4 wins out of 4 for the matches I've attended and I've seen some very different and exhilarating performances. Tonight was another brilliant match which had a great deal of quality though what I am so enjoying is the shear entertainment - top draw - with the kind of topsy turvey turn of events that would test any dicky ticker but a finish to cap them all. Roy of the Rovers stuff ending in the ultimate 'Nunotime' 94th minute winner. Dreamland surely?

We got there early. Plenty milling about around the ground and we positioned ourselves for the arrival of the team coach. First time since I was a ST holder I saw the team arrive and I have to report I loved it! Took a little video of the new crop and Nuno and very satisfied with myself in a little boy kind of way! Had drink outside and got to our seat. Ashton Gate is a very good ground now by the way, The new grandstand has finished it off very nicely and to see it full tonight was a thrill especially with a fantastic Wolves following who deserved the 3 points all themselves for the full 90 minutes they (we!) put in. Proud to be Wolves!

I'm assuming that you all saw the match? The kind of result and performance to drain the last drop of emotion from a fan and crushing for all connected to Bristol City. We've been there. I thought we were the better side to be honest but oh my god after Danny's red I thought 'oh sh$te'! Seen the highlights now and it seemed incredibly harsh but I was so impressed with how we coped for the rest of the half, fully deserving to go in 0-0. City rarely troubled us.

2nd half, City upped it a little and their goal was 'Wolves-esque' - pace, movement, passing and great finish. That's it when you're away and down to ten versus a side on the ascendancy ...... the end isn't it? That's the script ay it? How wrong and how wonderful football can be!

.... then fell Doherty to a Fielding howler. Cast iron red but I was baying for blood, not a red. I wanted the goal that Doherty would have had, not the cr&ppy 22 yard free kick. An argument for a 'penalty goal' ala Rugby perhaps? Whatever, I was fuming. Up steps Bazzer with his peach of a left peg - cue pandemonium in the Atyeo / Park stand. I thought I was going to bust me guts! No more than we deserved but I don't think I've celebrated an equaliser like that since the Hindmarch goal at the Hawthorns circa 1989?!

All us after that wasn't it? 10 v 10 and we were on the up. 94th and Romain gets pulled back in front of me! Free kick on the right. Where's Bazzer? OK, trotting up, happy to see that - might we have a chance? Another pearler of a left footed whizzing cross and Bennett connects, the ball heading towards me with just the net in between. Delirious. Delirious. Wild scenes. Incredible. Wonderful. Total loss of self control. Hugging - anyone in the vicinity really!!! A Wolves love on!

This is what being a fan was invented for, these moments. Down to 10, up against it, kept calm, go behind, claw it back, passion, last minute winner, 10 points clear!

So many pluses, so many assured performances as well as mistakes. I'm not going through them all but will summarise with my negatives and positives, players wise. Negatives, Costa I'm afraid, looked powder puff and weak at times with some poor body language, compare that to Cav's energy and dynamism when he came on which helped changed the match IMO. Also had to that Ruddy's kicking. I know Ashton Gate doubles for Rugby but there are no line outs in football! Positives? So many, a collective guile trumps it all, a terrific team effort but ..... Ruddy's early fabulous save, Coady and Big Willy (every team needs one) in general, the superb left boot of Douglas, Saiss today for sure, the golden, cultured boot of Neves (shear class tonight) and Cav. I will mention Jota too - quieter today but worked hard and I love him!

It's so great to be a Wolves fan at the moment. The manner of this superb victory has done nothing to diminish the warm feeling I have inside. The run home fled by. The year is over and just look at the table. It would be a dream if I hadn't been so privileged to have seen it first hand. It's happening. 2018 looks as inviting as it will be exciting, oh yeah, and I'm 50!

Happy New Year to all Wolves fans everywhere and most importantly 'Up the Wolves'.
View a Printer Friendly version of this Story.
Wondrous Wolves, but Ashen Gaze from Bristol City fans
Wolves (IP Logged)
22/06/2018 11:21
What do you think? You can have your say by posting below.
If you do not already have an account
Click here to Register
.
Edited 1 time(s). Last edit at 2018:08:05:16:18:08 by Cheshire wolf.
Sorry, only registered users may post in this forum.