Neil Warnock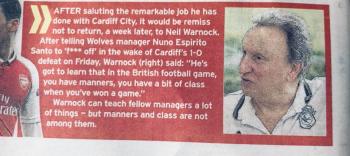 Spot on!!
By Cheshire Wolf
April 8 2018
From the Daily Mirror
It now seems the media are seeing Neil Warnock's behaviour at the end of the match for what it is. When he was interviewed by Sky he tried to adopt a 'holyer than thou' attitude towards Nuno's 'bad manners', but this puts it clearly into an appropriate perspective.
I've been noticing fans referring to him as 'Colin' on social media, and wondering why. I realised last night that an anagram of his name spells 'Colin W*nker'. How fitting!!!