The Trotters got off lightly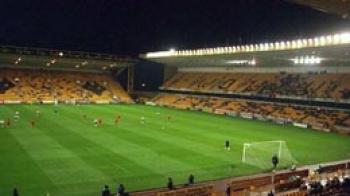 Molineux
By Ivybridge Wolf
November 26 2017
Wolves reign supreme Ivybridge Wolf travelled from Devon to Molineux and reports on his day watching his team
Anybody else on here go? Weren't we good?!!! And yet, Bolton were lucky enough to meet us on a day we, for whatever reason decided not to go for the jugular!

Lovely day, all round. Left earlier than usual and I drove up with two of the local Ivybridge Wolves clan from The Exchange pub. Wall to wall Wolves chat all the way. It doh 'arf mek the journey quick. Parked in Birch Street, then off to The Great Western. I love that pub - real character, great beer and buzzing on match day. Moved on to the North Bonk bar where I met and enjoyed a chat with a few from the Wolves Blog (one of the Ivybridge chaps is a blogger). The bar though - never been there before - Very plush but so bloody slow and I did mention yow'd still get a quicker pint in the Wanderer! Anyway, got a Balti pie (incredible to say it's my first - boston grub!) and settled down in row N of the lower Steve Bull (good view btw).

The football? Men v boys. Bolton had a couple of brief spells, one right at the start, then the lull in the second which woke us up after the goal. Thought also their left back Robinson looked half decent too. The rest is about us. The Trotters were utterly helpless and completely dispatched, except to say if it had been 6,7 or 8 it wouldn't have been unreflective. If we ever decide to really turn it on, we're going to spank someone soon!! Whilst I jest, there's truth, such was our supremacy, not only because of our footballing ability but also because we totally set the pace yesterday.

Without breaking a sweat, big Willy scored, rising imperiously to a beaut of a Douglas corner, then Leo scores a sitter created through Jota's excellence. A fantastic first forty five with some real pitch niggles (Jota v Wheater quite tasty), an over officious ref getting too excited, particularly it seems, sending off Nuno and Parkinson. The half time whistle prevented a red IMO. Additionally, Poor that some chose to boo Karl Henry, terrific than others countered by clapping him!

Second half - dominated- including the lulls in play / breathers! Deserved penalty with a lovely finish, we elected to provide Bolton with a consolation before the two best goals of the match. Cav's dink inside and thunderous finish was superb, though my favourite was our 'route one' 5th. What a 'pass' from Ruddy to Jota, who showing a clean pair of heals stylishly putting it away. Magnificent! If his last minute curler had gone in, i think i would have expired!

What a team we have. 5-1. Yes folks 5-1, this after a 4-1 midweek. Gone the negatively, gone the boring performances, gone the Bolton curse, expired the November hoodoo, in the expectation, in the delivery, in the excitement, in the delight, back the pride.

Of course, we've won b*gger all at present, so there is my word of caution and balance. Please just let us keep this up!! In the meantime I will continue to be contented that the Blades dropped 2 home points and will be shouting out for Forest this afternoon. 44 points now - have we avoided relegation yet?!!

The journey home - well all three of us had a warm feeling all the way back to devon, listened to Sig 107 before the signal failed, then 606, a shadow of its former self only brightened by a sensible Wolves caller!

Got home, watched strictly and I'm a celeb, yes, I have sins, but assured that the real reality show is at Molineux at the moment and the reality is that we have a beautiful, stylish, hard working, goal scoring, pace setting, attacking, defending, fantastic Wolves football team and did I mention .... We are top of the league!! Everyone in this team contributes, everyone! Just wished I could watch them more, hopefully Ashton Gate next, ticket availability dependent.

Up the Wolves!! Absolutely loving it!! It has to end at some point, doesn't it?
View a Printer Friendly version of this Story.
The Trotters got off lightly
Wolves (IP Logged)
26/11/2017 10:03
What do you think? You can have your say by posting below.
If you do not already have an account
Click here to Register
.
Re: The Trotters got off lightly
27/11/2017 12:23
Great review. Glad you enjoyed your trip!
Sorry, only registered users may post in this forum.