Down and Out - Wolves 0-2 Man City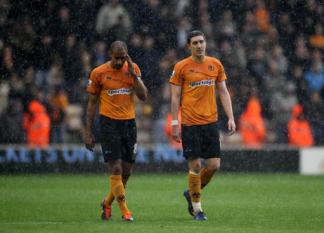 Dejection
By Tom Bason
April 23 2012
Yesterday, the inevitable was confirmed was Wolves were defeated 2-0 by Manchester City. Goals from Sergio Agüero and Samir Nasri were enough to confine Wolves to next season's Championship.
- With the line-up, I felt a little sorry for Christophe Berra. Last week, he came in to a team that was struggling and conceding goals all over the shop, and he did well. In fact, we even managed to keep a clean sheet. I even noticed that the only clean sheets we have kept this season have been with Berra in the side. Long term readers will know that I've always been a Christophe Berra fan, even when we were in the Championship and he made Roger Johnson look like a fans' favourite, so maybe I'm being a little biased when I say he should have kept his place. A couple of weeks ago I had a brief look at the central defensive partnerships, and the number of goals they conceded, and it struck me that we never tried Berra alongside Sébastien Bassong. The only reason I can think of for this is that they are both left footed, which seems a pretty stupid reason to me. Does anyone look at the Ferdinand/Vidic partnership and think, "they're good, but I wish one of them was left-footed". I don't understand the willingness to play two right footed players together, but not too lefties.
- Both teams started with similar formations – both had a goalkeeper, a back four, two sitting midfielders, a central striker and a number 10. If you look at the average positions below, you'll see both the average position of Carlos Tevez and Dave Edwards was very similar – I promise you, that's the last time I ever mention Edwards and Tevez in the same sentence. The major difference was the position of the wide men – for Man City, neither David Silva or Nasri are wingers. Neither will hug the touchline – instead they both drifted inside, allowing them to play the little passes in and around our penalty area. At times, the movement of their front-4 was superb, almost Barcelonaesque. Yet, it also gave City the problem that has beset Barcelona from time to time – a real lack of width. At times, it was reasonably easy for us to defend against – just pack as many players into the middle of the pitch as possible, and force them to try to and play through, It was of no surprise that City eventually forced the opener thanks to Gaël Clichy pushing forward from left back, providing some width and so stretching our defence, On the other hand, we kept our wide men on the flanks, looking to isolate the fullback and put crosses in. This was done reasonably well, except it tended to leave Steven Fletcher isolated against Vincent Kompany and the returning Joleon Lescott, with Dave Edwards struggling to impose himself on the game.
- Interestingly, both teams changed formations on the hour mark. City brought on Nigel De Jong and David Silva – perhaps this is an indication of how well we played yesterday – and switched to 4-3-3. Nasri switched to left hand side, Agüero pulled to the right with Tevez playing through the middle. With Man City's deepest midfielder now being De Jong, rather than Yaya Touré or Gareth Barry, this meant there wasn't a huge amount of need for Edwards to still be playing. De Jong isn't the type of player who will hurt a team, and so Kevin Doyle was introduced to give Fletcher a little more support upfront. Doyle appeared to have nominal duties in keeping goalside of De Jong, but generally, we were happy for De Jong to have the ball, as seen by his 90% pass completion rate.
- Towards the end of the game, City made one last tactical switch, bringing on Kolo Touré to move to a 5-4-1 formation. I'm a big fan of three central defenders, especially when playing against two out and out forwards, such as Doyle and Sylvan Ebanks-Blake. A few seemed surprised that Mancini made such a defensive substitution with five minutes to go and 2-0 up. I saw it as Mancini allowing the players the opportunity to get used to this formation. If City find themselves in the lead in next Monday's game against Man united, it would not surprise me to see them go to this formation.
- Yesterday was a sad day for me on a personal level – it's the last time I will ever sit in my seat. I am moving seats for the Everton game to sit with my Dad, while next season I will be moving to the Steve Bull stand, hopefully to get a better overall view of the games. Farewell JH S3 DD 91, it's been an emotional few years.
View a Printer Friendly version of this Story.
Down and Out - Wolves 0-2 Man City
Wolves (IP Logged)
23/04/2012 09:34
What do you think? You can have your say by posting below.
If you do not already have an account
Click here to Register
.
Re: Down and Out - Wolves 0-2 Man City
23/04/2012 21:13
Thanks for the write up Tom. I hope you continue with these insightful match reports next season. They are very interesting for me as I don't get to see that many games these days, and you do seem to have an excellent understanding of how these games unfold.
I suspect it is more of a read than a thread to toss opinions about, but I do value your contribution on here.
Interesting comments about Berra. He probably had most to lose with the arrival of Johnson and maybe fell a victim to being the odd man out while Johnson was being thrust upon us? If you own a clipboard I'd offer your tactical services next season
Maybe the change of seats will bring a fresh outlook and a change of fortune? Who knows. Enjoy the difference mate!
Sorry, only registered users may post in this forum.