Wolves 0-3 Arsenal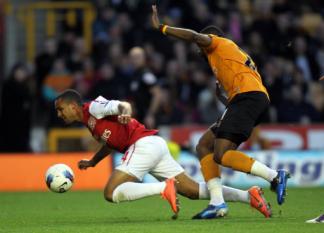 Game changer
By Tom Bason
April 12 2012
Last night, Wolves took another step towards the inevitability of Championship football next season. An early Robin van Persie penalty, following a sending off for Sébastien Bassong set Arsenal on the way. Theo Walcott doubled Arsenal's advantage soon after, before Yossi Benayoun wrapped things up with 20 minutes still to play.
- When I saw the line-up, I wasn't surprised. I think it would have been suicide to go into the game with two strikers, and I'm not sure how effective Steven Fletcher has been as a lone-forward this season. For Kevin Doyle's faults, he is a very effective 'defensive forward'. By this, I mean a striker who defends from the front – think the likes of Dirk Kuyt, a player whose goalscoring record isn't brilliant, but does a lot of work for the team. Anyway, if I was lining up a team that was looking for a 0-0, I'd take Doyle over Fletcher.
- The game was, obviously, over inside the first 10 minutes. For once, I'm writing this with the benefit of having seen the replays on Match of the Day, but they only confirmed what I suspected at the time – Bassong fouled Walcott, it was clearly a goalscoring opportunity, so he had to go. I have no qualms with the officials over this decision (although it seemed to take them one hell of a long time to decide it was a penalty – I wonder who actually made the call?), but I have a big issue with the rule. Bassong didn't mean to foul Walcott – it was clumsy, but not intentional. Surely for this, a penalty is enough? (It could also be argued that Bassong didn't deny Arsenal an obvious goalscoring opportunity at all, he simply delayed it. Arsenal still had an obvious goalscoring opportunity thanks to Bassong's foul, and van Persie scored it.) Because of one, slight mistake by Bassong, we were actually being punished three times:
The penalty. 77% of penalties are scored, a number I'd guess is at least equal to the number of obvious goalscoring opportunities that are scored, so this seems a reasonable punishment.
Wolves were forced to play the resultant 80 minutes of the match with only 10 men. A recent study shows that if a team has a player sent off in the 15th minute, they score, on average, one goal less than their opponent, putting them, in effect, a man and a goal down.
Bassong will now be suspended for the Sunderland game.
That's seeing Wolves punished three times for a foul that clearly wasn't intentional. To quote Mr Bumble from Oliver Twist, "the law is an ass".
- Saying that, once the red had been given, I wasn't 100% sure why Terry Connor felt the need to introduce Christophe Berra. Given the timing of the decision, I thought it might have made more sense to keep the same players on the pitch, but move Ronald Zubar to centre-back, and drop Karl Henry to right back. This move might have been an awful decision, but it could have at least been tested, if only for five minutes. As it was, we'd conceded again within two minutes of the substitution. Saying that, I thought Berra did well when he came on, although I felt ridiculously sorry for David Davis – he'll have waited all his life to play against the likes of Manchester United and Arsenal, only to start both games but only play a total of 52 minutes, through absolutely no fault of his own.
- Talking of players who haven't had many minutes, was Sylvan Ebanks-Blake even there? He was named as a substitute, but I didn't see him on the pitch at half time, and only noticed him warming up once in the second half?
- Given the game was over in the first 10 minutes, I thought the team battled well, especially the front three. I wonder how many goals Doyle would have scored had he been flanked by both Matt Jarvis and Michael Kightly for the past 30 months. He only had one proper chance last night, Szczęsny saving well, but the front three played very well together, and worked extremely hard. It worked less well when Fletcher was introduced, but I think this was partly due to tiredness. Jarvis was obviously knackered, and ended up playing in central midfield as we switched to 4-3-2 late on (Kightly moved upfront with Fletcher), presumably as he no longer had the energy to get up and down the left wing. Kightly's energy levels were excellent though, and if there's one positive to take from the last few weeks, it's definitely his form.
- I moved to the Steve Bull stand for last night's game as I brought a friend along with me, and for a while thought I'd found myself in the Arsenal fans. There were at least ten sitting around me. The family of four sitting in front of me of me were evicted after celebrating the opening goal, and a Wolves fan complained to a steward. You don't get that in the South Bank very often.
- This was the first time I'd seen Arsenal live this season (I missed the Emirates' game, although I did see them twice in the Emirates Cup last summer), so I was a little surprised at their waving pre-match. After both teams had shaken hands, all of Arsenal's team (well, apart from André Santos who appeared to be in his own little world and had to be called over) stood in a line in the centre circle, before circling 360˚ and waving to all four stands.
- I also had it pointed out to me that Arsenal didn't appear to have a goalkeeping coach last night, which seemed a little strange. Wojciech Szczęsny and Łukasz Fabiański just seemed to do their own thing, aided a little by Alex Oxlade-Chamberlain, who swung in a few crosses for some catching practise. According to Arsenal's website, their goalkeeping coach is Gerry Peyton. There was probably a very good reason why Peyton wasn't there (a quick Google search tells me nothing), but it begs the question why someone else didn't take responsibility. The obvious choice would have been Lee Smelt, the Academy goalkeeping coach.