Wolves' fans should take a look in the mirror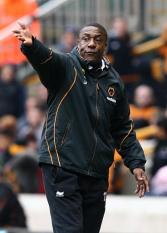 By Tom Bason
April 6 2012
I don't think I need to remind you of the predicament Wolves currently find themselves in. I've generally kept my counsel regarding the farce that was finding Mick McCarthy's successor, but have seen a number of people blamed, with Jez Moxey and Steve Morgan the most prominent, with the current crop of players, led by captain fantastic Roger Johnson following closely in their slipstream. But, I think there is one more factor to consider, one more set of stakeholders who have to take a long look in the mirror and consider their contribution to this cluster fruitcake of a season. The fans.
I'll start with the fan that has the most influence on team affairs – Karl Henry. While the five minutes that saw Wayne Hennessey let Jonas Olsson's weak shot through his body, before Youssef Mulumbu somehow cleared Roger Johnson's header off the line against West Brom could have changed that match, and so prevented McCarthy's sacking, the defining moment was arguably in a different home match against a local rival. Against Aston Villa, I'd say we were deservedly in the lead before he was stupidly sent off. That red card gave Villa the opportunity to get back into the game. Do you think McCarthy would have been sacked had we beaten Villa that day? Those extra three points would have seen us comfortably out of the relegation zone, even after being battered. And, had Henry not been suspended for the West Brom game, would he have capitulated in the same way? Sure, we probably would still have lost, but it might have been the embarrassment that it was, and Mick McCarthy might not currently be touring the nation's media outlets.
But, Henry was sent off, and McCarthy was sacked. From the outset, it was clear that there were three favourites – the choice of the fans, Alan Curbishley; my personal choice, Steve Bruce; and the one no-one wanted, Neil Warnock. It appeared that Curbishley was also Steve Morgan's number one target, but talks broke down. That happens. We may never know who the unreasonable party were during negotiations. It might well have been Morgan, offering only a six month contract with no future guarantees. But equally, it might have been Curbishley, wanting the sort of money to splurge on talent like Kieron Dyer, Freddie Ljungberg – both reportedly earning £85,000/week, a total of £34 million for a combined total of 32 games. Until we, and we most likely never will, find out what happened there, it's difficult to apportion to blame.
But, once Morgan's enthusiasm had been Curbed, it was clear who the natural second choice was – Steve Bruce. Yes, his Sunderland side had struggled, although there are perhaps mitigating circumstances. Following the loss of their number one striker, Darren Bent, last summer, they had a run of seven games, none of which they would have been favourites for – their easiest games were away trips to Stoke and Everton. They took one point from that run and never really recovered. But they still finished 10th, their highest position for 10 years and third highest finish since 1955.
Yet, this season, it was going pear-shaped. Or was it? Consider this – it was a Sunderland side that had lost their two main strikers (Danny Welbeck and Asamoah Gyan) through the summer, plus had Frazier Campbell injured. They had also lost a number of midfielders, not least Jordan Henderson and Bolo Zenden. Sunderland were a new team, it takes time for players to gel. It could easily be argued that Bruce would have got as much out of his team as Martin O'Neill has – O'Neill was perhaps lucky that he took over just as the players were getting used together. Indeed, while Sunderland has undoubtedly improved their end results, as Jonathan Wilson pointed out, in terms of their play, not a huge amount has changed.
It was for this, that I couldn't really understand the vehement loathing for Steve Bruce as shown by Wolves fans. Taking a very simplified view of the game, it is clearly our defence that is struggling – 68 goals conceded is more than anyone else in the Premier League, and of the entire Football League, only six other teams have conceded more than Wolves, and they've all played 9 games more. Yet, when Steve Bruce was sacked, Sunderland had the fifth best defensive record in the Premier League; last season they had the ninth best. He has a lot of faults as a manger, but he knows how to build a defence.
I have no doubt that Bruce would have been appointed had it not been for the fans backlash – people on this site claimed they'd give up their season tickets if he was appointed, while a different thread was entitled 'Keep Steve Bruce out of Molineux thread...' and was basically a petition. Maybe Bruce wouldn't have kept us up, but surely we'd have had more of a chance? It certainly wouldn't have been any worse than the one point gained and 19 goals conceded in the six games under Terry Connor. Perhaps in hindsight, people have a different opinion? Perhaps not.