New Manager, Same Old Story - Fulham 5-0 Wolves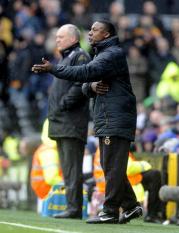 By Tom Bason
March 4 2012
Wolves were today clinically dispatched by an excellent Fulham side at Craven Cottage. A first half brace from Pavel Pogrebnyak was added to by a Clint Dempsey double, with Pogrebnyak securing the match ball. Wolves' troubles were compounded by injury concerns to midfield duo Karl Henry and Jamie O'Hara.
When I saw the line-up, I was reasonably happy. Aside from perhaps including the fit again Sebastian Bassong, I would have played Nenad Milijaš ahead of Karl Henry in the midfield. Given that Henry limped off injured in the first half, it didn't take long to see the line-up I wanted.
Obviously, the line-up I wanted was the wrong one. We played a basic 4-5-1, which obviously normally outnumbers a standard 4-4-2. But, Fulham didn't play a standard 4-4-2, instead playing a very adventurous 4-1-3-2, in which Danny Murphy sat deep, while Clint Dempsey, Damien Duff and the excellent Moussa Dembélé played in behind Pogrebnyak and Andy Johnson. This meant, their midfield four outnumbered the three in our midfield, and it was all too easy for them to pass around it. This was similar to the way that Mick McCarthy changed things in the Swansea game at Molineux, flooding the centre of the park.
Of course, this formation is not perfect, and much of Fulham's play went through the middle. I felt that Fulham's formation really gave Connor two options - he could have matched up with Fulham's midfield, or looked to take advantage of the massive holes it left defensively. If he chose to match up and play defensively, he could easily have moved Michael Kightly inside, to play just off Kevin Doyle, and moved Jamie O'Hara as a left sided shuttler to try and double up on Duff when he got the ball with Matt Jarvis moving to the right hand side to give John Arne Riise something to think about defensively. This would have given us a central midfield four to match up with Fulham's, leaving Jarvis a little freedom with which to attack.
The alternative could have been to attack Fulham, who played with little width. With Dempsey nominally in a left win position, the space to attack John Arne Riise was there, but unfortunately, Kightly couldn't take advantage. On the other flank, Duff doubled up on Jarvis preventing him from getting a clean run at Aaron Hughes - perhaps it would have been sensible to swap them. I'm also certain Riise would have been less likely to bomb forward if Jarvis was forcing him back towards goal. As it was, Terry Connor did neither, trying to play defensively despite being massively outnumbered in the middle of the park.
And talking of Connor not doing anything, he took an awful long time to make the first tactical change.2-0 down at half time, and after just five minutes in the second half it was clear that something needed to change. Given the players we had out on the pitch, in the formation we were playing, we were never going to get back into the match. The only way there was any hope was with a change, yet by the time Steven Fletcher was introduced we were 3-0 down and the game was over. I wasn't at the Newcastle game last week (nor will I be at the Blackburn match next week), so I am unsure whether it was a change by Connor that sparked the comeback or not, but today I was unimpressed by his inability to make a change when it mattered.
Saying that, today's result was not just the fault of the manager. In the first 20 minutes, there were three separate occasions when Fulham had a left win corner, and Danny Murphy played the ball short to Dembélé. On one of these, Michael Kightly went out to close them down, but it was easy to pass around him and get the cross in. Compare this to the second half where we took a short corner, and were instantly faced by two Fulham players preventing the delivery into the box. Someone in the team should have taken responsibility and made it a little harder to play the ball short.
If I was to sum up the first half performance, I would point out that at half time Mark Schwarzer came out early to warm up. Now, he could do this every match, but I suspect it was because he'd not actually had to do anything in the opening 45 minutes.
No matter how bad you read that Wolves were today, it shouldn't take away from an excellent Fulham performance. I thought they played very well at Craven Cottage last season, but today some of the link up play was absolutely superb. I missed most of the build-up to the fifth goal, but the rest of the time we couldn't get near them. It's brave playing effectively with a front-5, but today it more than paid off.
The early injury to Karl Henry and the late knock to Jamie O'Hara leave us dangerously short of numbers in the middle of the park. With David Edwards missing through injury and Adlène Guedioura banished to Nottingham Forest, this potentially leaves us with just Nenad Milijaš and Kevin Foley. Now, I'm not averse to this pairing - both are tidy passers and can use their positional sense defensively to win the ball back. But today, neither stood up to be counted for. Foley especially was anonymous, and it needed one of them to really try and lead the midfield.
Next week's Blackburn game is one of the biggest since we last faced Blackburn at home. With us conceding seven goals in Terry Connor's first two games in charge, a lot of work needs to be done over the next six days.