Jewell: The rugby ruin our pitch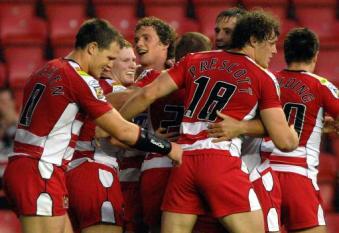 Cheese Heads
By Alan G
April 6 2007
Paul Jewell has expressed his concern over the fact that what many people consider to be a minority sport, rugby league, is due to be played on the Latics pitch less than 24 hours before their crunch Premier League derby against Bolton Wanderers on Saturday.
After recent games, Wigan Warriors have badly cut up the Latics' pitch, especially where the teams have formed a scrum, adversely affecting Latics' attractive, slick passing play.
Jewell was quite eloquent and diplomatic in his concerns however, stating: "It's not ideal for a football pitch and it's not ideal for us to have rugby on it less than 24 hours before us, but we have to get on with it"
Preview
Latics have 'keepers Mike Pollitt and Chris Kirkland sidelined and also defender Emmerson Boyce out with a knee injury.
Bolton will be without captain Kevin Nolan as he serves a suspension while Ivan Campo completes a two-match ban.
It is uncertain whether Henrik Pedersen will be included after he criticised manager Sam Allardyce, alleging that Potato Head had done a u-turn on a verbal agreement to extend Pederson's contract for 12 months.
Latics (from): Filan, Granqvist, Jackson, Hall, De Zeeuw, Camara, Kilbane, Heskey, McCulloch, Johansson, Landzaat, Aghahowa, Valencia, Scharner, Taylor, Folan, Cywka, Cotterill, Skoko, Unsworth, Baines, Nash.
Bolton (from): Jaaskelainen, Hunt, Gardner, Meite, Ben Haim, Speed, Faye, Davies, Anelka, Diouf, Walker, Giannakopoulos, Teymourian, Tal, Thompson, Pedersen.
Jewell:
"We've got a good record against Bolton, but I'm not one for looking back and thinking about bogey teams. There's a lot at stake for both sides for different reasons.
"We've got it in our locker not to be relegated. We might need a bigger amount of points than we first thought, but who's to say Charlton or West Ham will win another game?
"It's in our hands, and I've not studied the other teams in detail. We've got to concentrate on our own games, try and get something from them and then see what happens. It will be a good test tomorrow, I rate Bolton and I rate Sam Allardyce highly."