Time for Technology on goal line decisions.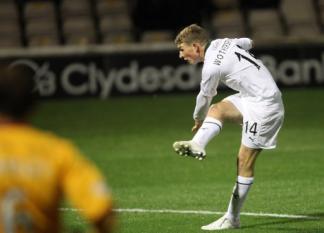 Wotherspoon scores
By Graham Barnstaple
October 27 2012
As Motherwell slumped to a four nil defeat to Hibs last night they had a goal not awarded which sparked the debate for goal line technology.
The game had got off to a good start with both sides showing attacking intent with chances being created at both ends. Hibs took the lead thanks to an excellent shot from Wotherspoon from the edge of the box.
Motherwell then felt they had pulled a goal back when keeper Williams dragged a Hammell header back from about a yard over the line. Neither the referee or his assistant awarded anything and the game continued despite the protests of the home players.
The frustrating thing is that many people in the ground knew the ball had crossed the line either by watching on Sky Go on their phone or texts from friends who were watching on ESPN. Sadly the officials weren't awarded any such help.
The assistant didn't help the situation by telling Stuart McCall the ball was "definitely" over the line. He will feel a bit stupid this morning….
The officials then compounded this error by awarding Hibs two penalties that quite clearly weren't. Leigh Griffiths admitted on TV he was "shocked" when the first one was awarded and he wasn't looking for a penalty.
Later in the half Hibs were awarded another penalty for a tackle that was arguably not a free kick, but definitely wasn't in the box. Once again the same assistant was "definite" the incident was a yard inside the box, once again he will feel stupid when he sees this back.
Griffithsconverted both penalties to have Hibs on easy street, while Michael Higdon missed one at the other end. Hibs sub Handling scored a stoppage time fourth for the visitors, but the major talking points as people left the ground was the awful performance of the officials.