Ally Dawson named new assistant manager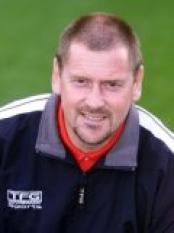 New Blue
By S. Archibald
September 4 2002
Former-Hamilton boss Ally Dawson is named the new assistant manager of Stranraer. Dawson was spotted in the dugout on Saturday and his presence may have been the deciding factor in the solid win over Brechin City.
Ally Dawson has been officially named as Stranraer's new assistant manager. The ex-Hamilton boss had helped to guide his former side back to the Second Division - after being deducted 15 points two seasons ago, resulting in relegation to the Third Division. He is also credited with keeping the Accies afloat despite their serious cash-flow problems. Before the start of the season the 43 year-old player was fired by the Lanarkshire side.
Dawson made a name for himself in the late 1970s and 1980s playing for Rangers, and broke into senior management in 1999 at Hamilton. In the 125 games he was in charge his record was 48 wins, 36 losses and 41 draws - this is better than Billy McLaren's record which is currently 143 games in charge, with 44 wins, 45 losses and 54 draws.
Let's hope that Ally's motivation can help Stranraer get out of the doldrums and we can start getting a couple of good results together. Welcome aboard Ally!