Cooper makes his first Pools signing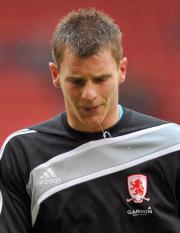 Franks - Pools deal
By Charlie Summerbell
May 17 2012
Hartlepool United boss Neale Cooper said he wanted pace in his squad, and his first close-season signing has provided him with just that in the shape of released Middlesbrough winger Jonathan Franks.
The former England youth international has been released at the Riverside after spending the last three months of the season that has just ended on loan at Pools' League One rivals Yeovil.
The Somerset club wanted to keep him on a permanent basis, but as soon as he learned that Cooper was interested, Franks made it clear he would prefer to stay in the North East.
Franks, who is 22, scored three goals in 14 games for Yeovil. He had also scored three times in 28 senior games for Boro.
Cooper is also reported to be keen on bringing powerful striker Steve Howard back to Victoria Park after he was released by Leicester.
At 36, Howard is getting a bit long in the tooth, though Cooper popssibly sees him as the ideal foil for the likes of Franks, James Poole and Luke James. Though if that is the case, what's wrong with Colin Nish?
There will be many fans who, despite his pedigree since he left Pools, will question the wisdom behind considering a player like Howard. His age as well as the old "never go back" saying in football could work against him.
More Hartlepool Utd headlines
Hartlepool Utd Poll