No shocks as Pools announce retained list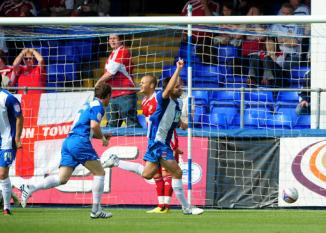 Boyd - on the way
By arthurtest
May 11 2012
Nobody should have been too surprised by the list of players shown the Victoria Park door by Hartlepool United boss Neale Cooper. But there are still many who will mourn the departures of Adam Boyd and James Brown in particular.
The pair, along with Steve Haslam, Colin Larkin and Callum Hassan, were all told they were not going to be offered new contracts, while it's expected that veteran Nobby Solano will follow them out of the club soon.
Paul Murray, Evan Horwood, Andy Rafferty and Jordan Richards have all signed new deals, talks are taking place between the club and Richie Humphreys and Gary Liddle, while all the club's other senior players were already on contracts taking them into next season.
In his first spell with Pools, Boyd was a real star and few fans will forget his rain-soacked hat trick at home to Sheffield Wednesday. But his second spell has not been so successful.
Brown (right), meanwhile, has been one of the unlockiest players ever to wear the club's colours, injuries constantly interupting what should have been a top career.
Cooper, like most other managers, hates this time of the season when he must tell players they are surplus to requirements, but he told the Hartlepool Mail: "It was hard – but it's simple, we need to bring in better players. To do that we needed to create space.
"It's not a case of the hard work starting now, because we've been working hard for a while identifying targets, but now we are able to press ahead a bit more.
"We needed to change things – it's my neck on the line and I want to build my own team.
"I want to build something here which will excite the fans."
In the past, Boyd and Brown have done their share of that, exciting the fans.
But for a variety of reasons, they have not done it lately and both appear to admit that they were not surprised to be told they can go.
This season's inconsistent form shows that Cooper needs to make changes and neither Boyd not Brown have contributed as much as they would have liked to.
Now Cooper has a chance to build a squad of his own.
More Hartlepool Utd headlines
Hartlepool Utd Poll