An Eleventh Straight Win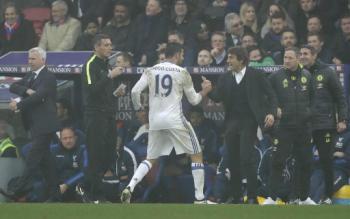 Celebration Time!
By Gary Watton
December 17 2016
The irreplaceable Diego Costa proved once more to be the right man in the right place at the right time for runaway Premiership leaders Chelsea. Shortly before the interval, the Spanish marksman got on the end of an exquisite cross from man of the match, his compatriot Cesar Azpilicueta, to head home the only goal of this close contest. As a consequence, Chelsea went temporarily nine points clear at the top of the charts, having secured their third consecutive 1-0 win in six days. Each triumph owed as much to solid defending and goalkeeping as much as anything else, as this record-breaking, rejuvenated Chelsea team helped themselves to their ninth shutout in their last eleven Premiership outings.
To be fair to the hosts, they did play quite well and did not disgrace themselves, but their manager Alan Pardew admitted afterwards that Chelsea's defence were nigh impenetrable. After all, Courtois was reduced to one or two regulation saves, although he could thank his lucky stars that the Eagles were wasteful from free kicks and equally impotent from corner kicks.
As for the visitors, here is a brief summation of the efforts of each player:
Courtois: solid performance, largely untroubled in spite of Palace attacking frequently
Azpilicueta: set up the only goal and produced his usual efficient defensive display
Cahill: there were one or two poor passes from him, but he did quite well, although he did insist on popping up on the left wing on quite a few occasions!
Luiz: the Brazilian maestro has been a revelation in recent weeks. This was yet another magnificent outing for him.
Kante: full of energy, he still has a tendency to lose the ball, but fortunately he wins possession more often than he loses it. He nearly scored too.
Matic: unsung hero of the team, this was arguably his best performance in a very long time. His defending and attacking were of a high standard.
Alonso: nobody saw more of the ball than he did, and he rose to the challenge, prominent in attack and able to defend too. He was unlucky not to score twice.
Moses: almost unused in the first half which was illogical. He did attack and defend with gusto after the break, but a slip in their area summed up his afternoon.
Willian: If this was perhaps Alonso's best display for us, this was arguably Willian's worst, as he lost the ball a number of times. It just wasn't his day.
Hazard: Costa is grabbing all the glory of late, but Hazard is still the jewel in the crown. He remains a majestic counter-attacking outlet for his defence.
Costa: He took his goal well and gave a good account of himself, but was unlucky to get booked for a foul which was his only aberration.
Batshuayi: He did nothing wrong but had little time to impress.
Ivanovic: He slotted in well on the right where he saw a lot of action. His bloody-minded defending was just right for the dying minutes.
Fabregas: Cesc rarely if ever loses the ball, so his ability to keep possession was an enormous boost, replacing the wasteful Willian.
Crystal Palace 0 CHELSEA 1; half time: 0-1
CHELSEA goal scorer: Costa
CHELSEA team: Courtois; Azpilicueta; Luiz; Matic; Kante; Cahill; Alonso; Moses; Willian; Hazard; Costa. Used substitutes: Fabregas; Ivanovic; Batshuayi
CHELSEA leading scorers:
Costa thirteen goals
Hazard eight goals (including one penalty)
Moses four goals
Batshuayi three goals
Fabregas three goals
Pedro three goals
Willian three goals
Cahill two goals