Laws to Decide on Ellington Future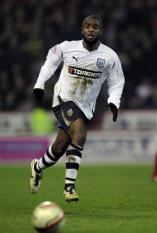 By TownFans.co.uk
January 7 2013
Scunthorpe Manager Brian Laws is set to decide in the next 24 hours if the club would like to retain the services of on-loan 31 year old striker Nathan Ellington.
Ellington, has struggled to make an impact at Town since joining in the summer of 2011 and failed to score in 17 games in his first season at the club. Having fallen further down the pecking order, Ellington joined Scunthorpe on loan in November as he aimed to get some much needed first team football.
However 'The Duke' as he likes to be known, has seen his spell at The Iron be disruputed by injury and has made just two starts and appeared four times as a sub since joining, failing to find the scoresheet, with his original loan spell coming to an end following Saturday's game against Shrewsbury.
Now Scunthrope boss Brian Laws needs to make the decision if he would like to keep the former Wigan, Watford and West Brom man on at Glanford Park by extending his loan spell, something Town will be happy to do, with a decision likely to be made within the next 24 hours.
Speaking to the local press in Scunthorpe, Laws, who is in his second spell as manager at the club, said he told Ellington something special was expected in his last game: "I said to him that we needed a performance from him.
"Nathan's been hit and miss really, to be honest. We needed a performance for us to see whether we continue with the loan or not. That's something we'll talk about over the next few days, depending as well on what our thoughts are about recruitment in the next week or so."
Keep up to date with the latest ITFC News on TownFans.co.uk
- Follow us on Twitter at twitter.com/townfans
- Join us on Facebook at facebook.com/townfans