Town Striker Taylor Arrested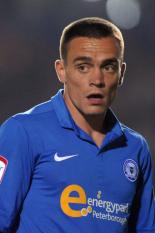 By TownFans.co.uk
November 21 2012
Striker Paul Taylor has reported to have been arrested following an incident that took place in an Ipswich Town centre pub.
25 year old Taylor joined Town from Saturday's opponents Peterborough United in the summer for a free which was said to be around the £1.5m mark, but following an injury sustained after just three games of the season the Liverpool born man was ruled out for the rest of the season.
Speaking in relation to the incident which took place last month, Suffolk police released the following statement: "Two people have been arrested following an assault in an Ipswich town centre pub.
"The incident happened on Tuesday 16 October at approximately 12.15am within a pub in Tower Street. Two male members of staff within the premises were assaulted. One victim suffered a broken rib and the other a fractured eye socket and a broken finger.
"A 25-year-old man from Ipswich and a 24-year-old woman from Liverpool were both arrested on Tuesday 20 November on suspicion of grievous bodily harm and taken to the Martlesham Police Investigation Centre.
"The man and woman have been released on police bail pending further enquiries and will return to the Martlesham Police Investigation Centre on 16 January 2013."
Have your say, Write or Blog for TownFans.co.uk - click here for more info.