Luke Murphy Interview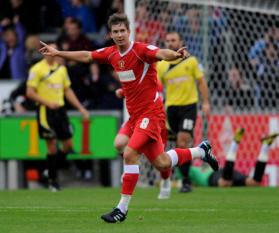 Luke scores v Burton
By Michael Rowland
October 10 2010
Luke Murphy speaks exclusively to www.crewealexandra.thefootballnetwork.net
In a www.crewealexandra.thefootballnetwork.net exclusive I spoke to Alex midfield star Luke Murphy about his dream debut for the club and what the Alex fans can expect this season.
Michael Rowland: "Luke you have made a great start to the season with some consistent performances in the middle with Belly and Westy, so what are your realistic hopes for yourself this season?"
Luke Murphy: "Personally I am looking to play as many games as I can, get forward and score a few more goals too!."
MR: "Compared to recent years the team has improved greatly in terms of style of play and you've been playing a crucial part of that in the centre of the pitch. Although the side has been failing to convert draws into wins you now find yourselves 9 games unbeaten. Where do you and the rest of the squad see the side finishing?"
LM: "Nothing less than the playoffs will be a good season for us and I'm sure the rest of the lads agree. Last season those draws were turning into losses but we're playing well as a team and have a real belief that we can do well."
MR: "You have played every game this season and now established yourself as a first team player. What has been the highlight of your career to date?"
LM: "Scoring on my debut for Hartlepool was fantastic. Just making my debut was a massive deal to me but to score as well was a dream come true".
MR: "Obviously you've worked with some terrific coaches whilst coming through the Academy and now the first team but who has been the most influential person in your career so far?"
LM: "My Mum, she's great and she actually knows what she's on about! Listen to your mum kids!"
MR: "So your Mum was a big influence on you, who did you support as a boy? Did you grow up always dream of pulling on a Crewe shirt at Gresty Road?"
LM: "I actually supported Manchester United."
MR: "Oh dear."
LM: "Yeah! Moving on!"
MR: "Whilst it is most fans dream profession to play football, if you weren't a football what would you be?"
LM: "I haven't got a clue to be honest, I love being a footballer and am very lucky to do it for a living, hopefully I would be working with a couple of mates having a laugh!"
MR: "The side is looking more passionate on the pitch and that has been mirrored with a marked improvement in support. The fans seem to be getting behind the team instead of getting on the backs of players like previous years, how do you perceive the support of the Alex crowd?"
LM: "I think the crowd are very good, mainly because they have had to put up with our inconsistency so much! It's never good to hear booing and it effects some more than others, but to hear the crowd getting behind us boosts us all".
MR: "There is obviously a terrific team spirit amongst the side at the moment, let's see what we can do about that!... Who has the worst taste in music and who has the worst fashion sense?
LM: "Nobody has shocked me yet with their taste in music, I'm going to sit on the fence and say everybody has similar taste. Their aren't ever really any arguments over what gets put on in the changing room. As for the fashion, there are definitely some rascal get ups flying about! But naming no names!!"
Luke has started all of Crewe's games so far this season, chipping in with 3 goals from 14 appearences. We wish Luke the best of luck for the rest of the season and his future career and thank him for speaking to us.
View a Printer Friendly version of this Story.
Top Crewe (IP Logged)
Luke Murphy Interview
10/10/2010 14:45
What do you think? You can have your say by posting below.
If you do not already have an account
Click here to Register
.
More Crewe Alexandra headlines
Crewe Alexandra Poll