Newcastle v Leicester Review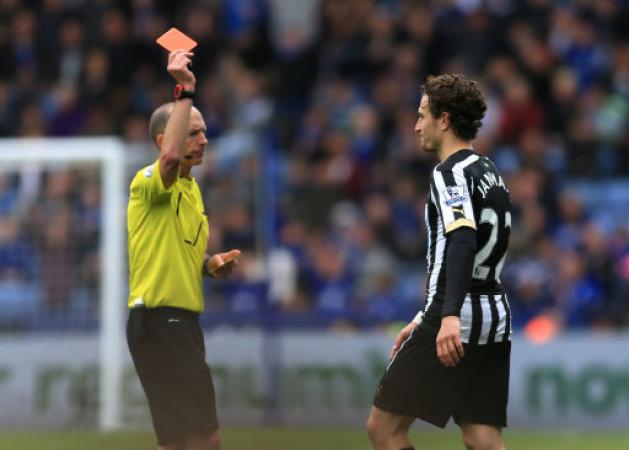 Yanmaat being sent off
By Toon Army
May 5 2015
0-1 to leicester in 36 seconds after a cross, Janmaat booked after 16 minutes into the game. 0-2 down after 17 minutes after a free kick, but again everyone know we aren't good at defending set-peices at all. Gutierrez booked into the 28th minute. 0-3 down after 48 minutes from a penalty.
Williamson was booked on the 55th minute and was then again handed a 2nd yellow 62 minutes, which put us down to ten men.
Dummett was booked on the 70th. Janmaat's 2nd yellow on the 91st minute, so nine men finished the game. Carver said this about the Leicester match on Saturday. "On a scale of one to ten, it's a minus 10."

"Whoever defends set-pieces in your box and in the other box, we don't score enough and we concede too many. Once we cross the white line and we have to defend set plays, there is not a thing I can do about it. To concede after 30 seconds.....you have no chance."
Carver said this about Williamson's Red Card inccident - "I thought he meant it. When the ball went on to that left-hand side my first reaction was don't do it. He did it. (Jamie) Vardy was off the pitch, Willo was off the pitch. There was no need to do it and I'm not accepting that, especially with the situation we are in."
There's still time though, just enough, to turn this around, with a trio of matches still to be played that in normal circumstances could all be considered winnable.