San Lorenzo Confirm Coloccini Is Refused Permission To Leave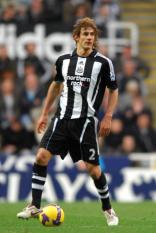 By Tyne-Talk
January 23 2013
Newcastle United have won the battle over Fabricio Coloccini, after San Lorenzo confirmed that he will not be joining them this month and that they will now move on to other targets. Coloccini, who is rumoured to be experiencing personal problems is said to have wanted a move back to Argentina where his family are, however the pressure San Lorenzo put on Newcastle United won't have gone down well with club owner Mike Ashley. Newcastle we due to hold talks with the defender this week and San Lorenzo have now confirmed that he has been refused permission to walk away from his contract.
San Lorenzo tweeted earlier today;
"Finally, after long negotiations, we announce that Fabricio Coloccini will not join the roster of San Lorenzo.
It is not possible to release the Newcastle player.. and therefore the club will look for another alternative to strengthen the defence."
Newcastle are yet to release a statement on the situation.