Was West Brom Game One Of Williamson's Best?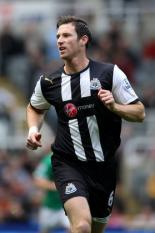 By Tyne-Talk
March 26 2012
Alan Pardew has hailed defender Mike Williamson as having had one of his best games against West Brom yesterday afternoon, despite confusion between him and goal keeper Tim Krul, leading to West Brom's goal. He told The Gazette;
"We're really going to have to lean on the big fella (Mike) Williamson, who had one of his best games.
There aren't too many options. If we can get Coloccini back, it'll really boost us as well."
Williamson has also given his opinion following the game;
"We've had a few results go our way, but there's still a long way to go. We're an honest group taking each game as it comes and keeping up momentum."
Talking about the Liverpool game he added;
"It's a very important game at home, so hopefully we can turn up and do well. They'll be looking for a reaction, they've had a few sloppy results, but are a fantastic team and have quality throughout."