Simpson Forced Off Twitter - Should Footballers Be Tweeting?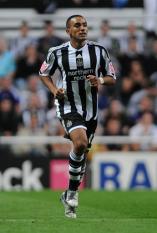 By Tyne-Talk
March 17 2012
Newcastle United defender Danny Simpson has closed his Twitter account this week after repeated abuse by "fans" blaming him for the defeat against Arsenal on Monday night. The move comes after several other 'celebrity' accounts have been closed for similar reasons, whilst others brace themselves for a barrage of abuse/racist comments on a regular basis.
Former Newcastle United Midfielder Joey Barton set the Twitter trend in the footballing world by using the Social Networking site as a tool to reach out and antagonise fans/footballers alike with his honest, but often critical views of the world.
Barton is regularly in the tabloids for his controversial 'tweets' which are said to have played a large part in his departure from the club after he used it as a platform to comment on the management.
In recent weeks several players have reported abuse on the website which allows fans (or rival fans) direct access to a person's inbox. A Sunderland fan was charged with making "grossly offensive" remarks about Newcastle striker Demba Ba via the networking website. He pleaded guilty and was sentenced at Sunderland Magistrates Court but continued after the hearing to question what he had done wrong.
25 Year old Simpson 'tweeted' this week before closing his account;
"Time to delete this. Never read so much s**t in my life. Hurts to read that stuff when you're trying your best and working hard every day."
He has been supported by Manager Alan Pardew who has been quoted calling the behaviour disgraceful. Pardew said;
"To actually get some criticism for it was disgraceful really. They got it completely wrong – the guy was injured. This is somebody who has cleared more off the goalline than anybody else in the Premier League.
If you're injured what can you do? The people who did it should know better."
Earlier this month Newcastle United striker Nile Ranger (along with two others) was charged by the FA for making homophobic comments on the website. He was fined £6k and warned about his future conduct. It's not the first time his contribution to the site has landed him in trouble, after he previously posted a photo of himself with a replica handgun.
Is it time the for 'tweeting' to become a thing of the past for employed footballers, to prevent the players being affected by the abuse directed at them by "fans", but more importantly to prevent the clubs from being brought into disrepute?