Vuckic Recalled For Arsenal Game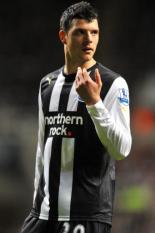 By Tyne-Talk
March 12 2012
Newcastle United have recalled midfielder Haris Vuckic from Cardiff City ahead of tonights Premier League game against Arsenal. It was anticipated by Cardiff manager Malky MacKay that Vuckic, who was on a month loan to The Blues, would have his loan deal extended to the end of the season.
MacKay said of the recall;
"He's going to be involved in their game against Arsenal and then it will be re-assessed.
Will he be coming back? It's something we definitely want to happen. It's something I know Haris wants to happen.
And I also know Alan wants it to happen as well. It will just be dependent on the health of his squad in the next few days."
The move comes after Peter Lovenkrands was ruled out for the rest of the season with a thigh injury.
MATCH PREVIEW/STATS/THREAD: ARSENAL V NEWCASTLE UTD HERE