McCarthy Laughs Off Barton Exchange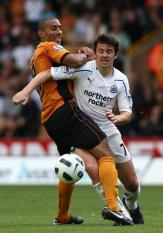 By Tyne-Talk
August 29 2010
Newcastle United midfielder Joey Barton held his own yesterday and stayed on the pitch after a string of committed challenges against him. At the end of the match Wolves manager Mick McCarthy and Barton were seen in an exchange of words with Joey seemingly making it clear he felt targeted.
McCarthy said of the exchange;
"We were only laughing. I think he was complaining about one or two of the tackles. I said to him 'you are hardly a shrinking violet yourself Joey so come on mate'.
He just said about my team and tackling and I thought there is the kettle calling the pot black if ever I heard it.
We were laughing about it. It was nothing at all in terms of harsh words. I was laughing at the fact he even said it."
Newcastle United manager Chris Hughton praised Barton for keeping his cool, he said;
"Did Barton do well to keep his cool? Yes. It was a competitive game, which is one you expect when you come here.
These are a good honest team and it was a real tough game for us.
Amongst all that, you've got to keep calm and composed but I think when you are a wholehearted midfield player yourself, you accept that it goes both ways.
Sometimes it comes out in your favour and sometimes it doesn't."