Another Forest pre-season with Davies at the helm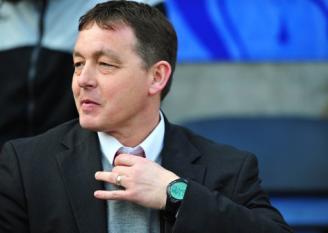 By Trentside
June 5 2011
With the season once-again ending in playoff defeat, Forest fans can once again look forward to a summer of unfounded transfer rumours and calls for Doughty's departure.
It's nothing less than Forest fans have come to expect. Apparently reputable publications do nothing to help matters with their doom-mongering and outlandish stories seemingly rehashed from online Forest forums. Come August we are all devastated when for yet another year running it seems that players aren't actually all that eager to come to our once great club.
So far they have claimed that two meetings have been held to discuss Davies' future with the club. This is exactly what they claimed last season when the club held routine end of season talks with the Scottish manager. Here is a man that took Forest from the brink of relegation to two successive playoff defeats to the side eventually winning promotion. Losing to a Swansea side often referred to as the "Barcelona of the Championship" would hardly justify a sacking and whatever Doughty is he's certainly not an idiot.
Nathan Tyson and his dad?
Genuinely alarming however is the club's handling of the Nathan Tyson situation. Premiership material he may not be, but a decent squad player he certainly is. He was a man capable of injecting some seriously needed pace into our often lethargic side, even if the finishing product wasn't always there. That said, the Len Tyson situation was seemingly bizarre. I can't help but think we don't know the full story.
Moussi to the Premier League?
We have also seen suggestions that Guy Moussi (to Everton?) and Robert Earnshaw amongst will not be renewing their contracts. Our club is seemingly inept when it comes to holding onto out-of-contract players. It appears that, in our arrogance, we simply deem these players not to be of the level required to make the step-up into the Premiership. This much may be true, but when we fail to replace these players with anyone whatsoever then I fail to see how we will do anything other than weaken our side.
It is only the start of June, and theres no need to panic yet. Experience however suggests that as the weeks go-by, we will continue to see a lack of developments on Trentside. There is a horrible feeling I have inside telling me that we are going to be entering into a Paul Hart-esque post playoff season relegation dogfight if we are forced to spend another season without addressing our obvious defensive frailties and inability to create and score goals.
View a Printer Friendly version of this Story.
Trentside (IP Logged)
Another Forest pre-season...
05/06/2011 03:39
What do you think? You can have your say by posting below.
If you do not already have an account
Click here to Register
.
11 Year Season Ticket Holder (IP Logged)
Re: Another Forest pre-season...
08/06/2011 17:05
Davies has got the FANS full support.

What he hasnt got is the support of the moaning Martin full time fans that attend playoff fixtures and thats all.