Match Preview: Southampton v. Yeovil Town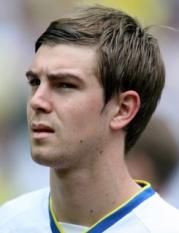 injury worry
By Alex O'Loughlin
March 8 2011
Yeovil Town complete their trio of games against top five teams with a Tuesday night trip to South coast outfit Southampton at St. Mary's.
Both sides are aiming for different things this season, with Sotuhampton hoping to use their game in hand to boost them back up into the automatic promotion places, whilst the Glovers need to keep accumulating the points to avoid relegation to the bottom tier of English football.
If stats are anything to go by then Yeovil's chances of getting anything from the game are racked against them, with Nigel Adkins' Southampton not having lost at home since early December, in a run which has seen them win 9 and draw 3 times. However, the Green and Whites away form has been much better than their home form, with three wins, two draws and the single loss, meaning the vast majority of their 2011 points tally thus far having come away from home.
The result is largely dependant on what side Terry Skiverton can field due to a number of injuries. Andy Welsh will continue to sit on the sidelines with his Achilles injury and he is likely to be joined by ex-Saint Paul Wotton who is "99% out with a hamstring injury". Captain Paul Huntington finished Saturday's game limping badly and if he is to miss the game then Adam Virgo will make his first start since mid-December.
Southampton have a few injuries of their own, with Morgan Schneiderlin definitely missing the game along with Guly do Prado. However, they do welcome back Dan Seaborne, Jonathan Forte and Ryan Dickson who all return from injury.
The reverse fixture back at Huish Park finished 1-1, after Guly do Prado cancelled out Adam Virgo's penalty. If you aren't travelling to St. Mary's you can listen to the game on BBC Radio Somerset 99.5FM with a match report following later on Glover Lover.