Leeds United to face F.A. investigation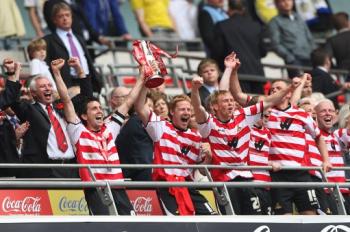 The trophy is ours
By Robbo
May 26 2008
LEEDS United are set to be at the centre of a Football Association probe following alligations made by several members of the Doncaster Rovers playing staff on Sunday afternoon. It is thought that around 10 Leeds supporters spat on the Rovers' players as they walked betweent the Leeds and Doncaster fans to go and collect their trophy.
It is thought that the incident wasn't caught by the SKY SPORTS television cameras, although the camera clearly thought a distressed United fan trying to take a swipe at Doncaster Captain Brian Stock, who was leading his side up the hundreds of steps to collect their winners medals and trophy.
It is thought that the club could face a £15,000 fine and a possible reduction in matchday ticket allocations next season should the F.A. find the club's fans guilty.

Reaction will follow...