Manchester Cashpoint City At The KC Next!!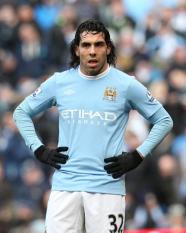 Give Us A Loan
By T/T
February 3 2010
Well after gaining a hard fought win against one team with money to burn we now entertain the richest club in the premiership in the form of Manchester City. After our draw with the machine that is Chelsea im going to stick my head on the block and go for another draw here but if im honest i fear City as they seem to have a hunger and desire about them, espacially when tevez is firing.
Well we are heading rapidly towards the business end of the season and points make prizes so Phil will be hoping for a good as, if not better preformane against another top team. We have to take points from these games to have any chance of staying up but City are a well drilled and organised side these days so its going to be tough.
The player i fear the most is Tevez, his energy is only matched by Dirk Kyte and Robbie Keene in my oppinion, but with Tevez there is an end product as he showed v Man United recently in the cup. But you only have to look at the players available to them and its enough to make you drool, Barry, Ireland,Bellamy, i mean just how fast are these on the break.
I think there is a chink in there armour and thats in there defence i,e Lescot imo is not the best defender in the world and if Hull can get at them and try keeping the ball then i feel at the very least we can get a draw, but if we give the ball away to often then i feel the speed of there counter attack will tell, and that could spell disaster especially towards the end of the game when we are tiring.
Anyway we are still boyd and on a high after the Chelsea result so we going to stay positive, if we could win then we have breathing space but i hate predicting us to win, so im going for the 1,1 draw and the tigers defence to hold strong and frustrate the City band wagon.
Any views from City fans or others are welcome please post below.
View a Printer Friendly version of this Story.
Manchester Caspoint City At The KC Next!!
House of Hull (IP Logged)
03/02/2010 13:07
What do you think? You can have your say by posting below.
If you do not already have an account
Click here to Register
.
Re: Manchester Caspoint City At The KC Next!!
06/02/2010 20:07
fkin get in, enough said