Fulham's loss doesn't stop celebrations of a record season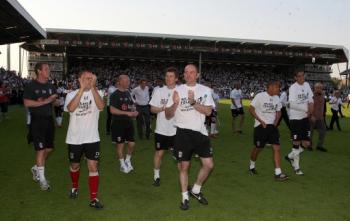 Players applaud fans
By JB
May 27 2009
Fulham celebrate a club record despite a 2-0 loss at home to Everton. Since 1879, when the club was formed as Fulham St. Andrews, they have never achieved such a high position in English football. Even in the days of the greats, Fulham never achieved what Roy Hodgson, Mike Kelly, Ray Lewington, and the squad did last season in the English Premier League. This is crowned with qualifying for Europe
The new Europa League kicks off next season, replacing the UEFA Cup, and Fulham FC will be part of it. One of three English clubs, this competition will be a similar format to the Champions League and Fulham will start their European journey in the third qualifying round, one round behind Everton and Aston Villa.
Let's go back to the end of last season, it all seems like a distant memory. Danny Murphy headed the ball into the Portsmouth net for a win, and the legend of the Great Escape was born. The next season came around with Fulham leading the pack of likely candidates to be in yet another dog fight for survival at the bottom of the table. Roy made some purchases that didn't all inspire confidence. Andy Johnson cost 10.5 Million (alledgedly) and the promise of a better season, with more goals beckoned. At the start, it seemed that we missed Brian McBride rather alot, the talismanic figure at the front was a sad loss formany Fulham fans, me included. It was then clear that the attack was not going to be the focus. The back five were gelling nicely, and not letting in many goals. Craven cottage was getting a name for itself as somewhere hard to score and win. Who would have thought it? A win against Arsenal, with Hangeland scoring a goal summed up the new Fulham. Roy Hodgson's skill as a manager and coach was working wonders. A solid passing game, strong defence, and a steady squad was getting the points, albeit mostly at home. Fulham were still suffering from a lack of confidence away from The Cottage.
Roy Hodgson salutes the Fulham faithfull
We lost Jimmy Bullard to a Hull that looked good, but were soon to find themselves struggling at the foot of the table. Jimmy badly damaged his knee, and missed out on the rest of the season. The rest of the season saw us badly beaten out of the FA Cup by a marauding Manchester United, only for us to take our revenge at home with a 2-0 victory over the Red Devils. Roy's men kept grinding out results, added a few away wins, and made a Cottage into a fortress. Joe Kamara came backe from injury with a vengance, and it seems that Roy's managing is starting to make him a more complete footballer. Eric Nevland also impressed all season as a 'Super Sub', and gained the respect of the fans. Andy Johnson scored a few goals, although not as many as we'd hoped, and Bobby Zamora, largely disappointed, with a meagre goals to minutes played ratio.
The midfield imressed, with great leadership from Danny Murphy. His reliable passing and stellar penalty kicks showed us all what a great player he is, winning many man of the match awards from football pundits. Dickson Etuhu filled in for Jimmy Bullard, and after a couple tricky games settled in nicely, and looks like a good purchase. Clint Dempsey gave us his all. His work rate and desire was second to none. His playmaking was great and he added a few more goals to hos Fulham tally, let's hope he stays. Davies seemed to start slowly, but in the latter half of the season stepped it up a gear until his unfortunate injury. Gera lost his place to Dempsey early on but certainly came back with a bang when he scored the winner against Man Utd.
The back four were great. Pantsil was the best value signing ever. He never settled at West Ham, but the Fulham coaching staff really seemed to work well with him. He made great tackles and could always be relied upon to start the attack from the back with runs up that right wing, passing the ball into the box. Konchesky, although overshadowed by the other three still played well, and was a reliable cog in the defensive wheel, and who could forget that amazing goal against his former club at Upton Park? Aaron Hughes was superb, and is the best signing from the dreaded Sanchez era. He acted as a great Vice Captain, and took control of things when Murphy was subbed. Brede Hangaland looks like one of the best Centre Backs in the Premier League, and we'll be lucky to keep hold of him. Roy brought the Norwegian giant in, and many were asking who he was. He turned out to be a great buy and a fantastic player, heading that ball out of danger, tackling in the area and causing many forwards no end of trouble. Mark Schwarzer finishes off the review, and for Fulham fans has earned our praise on a regular basis. With 15 clean sheets this season he has shut out some formidable attacks, and kept us in the game with spectacular saves on more than a few occasions. It seems that he has signed on for a couple of years, and thank goodness!
As for players of the season, they will follow. But please give us your thoughts.