Man Utd Stunned at Fulham Victory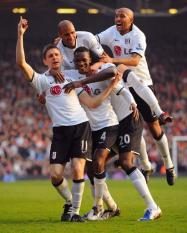 Gera Celebrates
By JB
March 21 2009
Manchester United left Craven Cottage looking like petulant, spoilt schoolboys today after a confident Fulham not only won, but kept a clean sheet against the Premier League leaders. An astonishing handball from the highly experienced Paul Scholes, gave Danny Murphy a penalty oppurtunitty he didn't pass up, and left United with 10 men.
Less than 17 minutes in to a game where Man Utd arrived as massive favourites, Fulham had a great chance at goal rebound out to Hangelands head, whose marker, Ferdinand, was no where to be seen, then fall to Zamora who had a certain goal. Unbelievably, the Manchester United veteran, Paul Scholes, thought he was a goalkeeper for moment and blatantly stopped the ball with two hands. He was rightfully sent off and the referee pointed to the penalty spot. Ex-Liverpool and Fulham Captain Danny Murphy stepped up and made no mistake. The ball sailed into the top right of the goal and left Van Der Sar with no chance. With only 10 men on the pitch Man Utd seemed to lose confidence and energy. Fulham dominated the rest of the half and Zamora had a number of good chances denied by Van Der Sar. Johnson and Davies kept the pressure up too, testing the United goal. A second goal wasn't to be in the first half, and both sides went in at half time, probably having a very different with their respective managers.
Ronaldo dives down to inspect the pitch a little more closely!
Alex Ferguson traded Berbatov for Rooney after half time, hoping to make a dramatic come back, and during a ten minute period, beginning at the 60 minute mark, they almost did. Ronaldo and Rooney started to look dangerous and Fulham looked in danger of hanging back and defending against a top drawer attack force. The efforts of Mark Schwarzer during this period cannot be understated. A Fulham defence which looked a little off balance meant that the Australian keeper had to make three outstanding saves in a very short space of time, but save them he did! The Whites got themselves together and realised their best chance of a good defence was to keep the ball and attack.
Murphy, who looked to have twisted his ankle, was replaced by Dacourt, who seemed to get the midfield back on track with a bit more energy. Sir Alex took off O'Shea, and replaced him with Tevez, in the hope that more skill up front would get Man U to claw their way back. Dempsey, who gave yet another commited display, was rested and replaced by Gera, and Zamora, who had also played well, but was tiring, was replaced by Kamara. Kamara plays quite a different game from Zamora, and his individual dribbling challenged the defence. Gera, who has not impressed me much recently, made a great play, breaking up the centre, and passing out to Johnson on the left wing. Johnson kicked it back to Gera, by-passing a stretched Manchester defence, whose first touch lifted the ball enough to scissor kick it straight past Van Der Sar in the back of the net. Kamara happened to also get himself into a great scoring position, but he wasn't needed. Manchester were on the ropes with 4 minutes of time left.
Gera Celebrates a great goal.
Rooney then made a truely woeful error of judgement after a foul was called by the referee, and slung the ball away as far as he could. He had already got a yellow card and this next one made it a red. He was sent off mouthing off and swinging his arms around like a spoilt child. It meant United were down to 9 men and had no way back. Ronaldo was very lucky not to have been sent off earlier with a two footed challenge, and generally bad behavior throughout tha game. It showed Manchester's charachter, that when they are losing, and the pressure is on, they can implode like they did today.
Fulham record their first win against Manchester United in 5 years and an amazing 45 years at Craven Cottage; here are the SuperFulham 3 stars.
* Zoltan Gera- even though he only played a quarter of the game, his goal put paid to Manchester's hopes of a draw. An excellent pass of his made the goal possible, as well as a great piece of individual skill
** Danny Murphy - cool as you like taking the penalty, and his first half performance in midfield is enough to get the 2 Star award
*** Mark Schwarzer- A clean sheet against one of the most potent attacks in the game, as well as some brilliant individual saves kept us in the game when our back four weren't firing on all cylinders for while
SuperFulham Man Of The Match - Mark Schwarzer

View a Printer Friendly version of this Story.
Man Utd Stunned at Fulham Victory
Super Fulham (IP Logged)
21/03/2009 18:38
What do you think? You can have your say by posting below.
If you do not already have an account
Click here to Register
.
Sorry, only registered users may post in this forum.