Fulham's transfer targets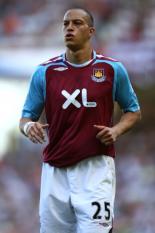 Zamora - on his way?
By JB
July 9 2008
Over the last week a number of names have been linked with the club, but nothing has been confirmed. Frederick Stoor from Rosenburg is the one name that has been strongly linked and it seems that the two clubs have to agree terms, if they do the Swedish international could be on his way to SW6.
Other names that have been linked with The Whites have emerged on the West Ham website; they are Bobby Zamora and John Paintsil. They have had a season with The Hammers where first-team football has been few and far between. Also the youngster Ashley Paul-Robinson from Crystal Palace, after an embarassing leak on his facebook page, is apparently in negotiations with Fulham
Some of these names have not inspired overwhelming confidence amongst the fans on the message boards. Zamora only scored once last season from 11 appearances, and even when fit, he was usually a second string player for West Ham. Paintsil has also struggled to find a regular place in the starting line-up. The sights of Fulham seem to be set fairly low if we are intent on buying players that are not good enough for regular selection at West Ham. These are teams we should be aspiring to beat, not taking their unwanted or under-performers.
Fulham fans are hungry for a real star striker signing, but it doesn't look like we'll get one at the moment. But on the other hand, not much money has been spent on transfer fees so far, so maybe, just maybe there is something special on the horizon.
View a Printer Friendly version of this Story.
Fulham's transfer targets
Super Fulham (IP Logged)
09/07/2008 20:42
Fulham's transfer targets
Sorry, only registered users may post in this forum.