The Striker situation at FFC for the next season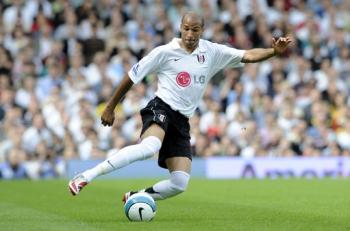 'Joe' Kamara-operation
By JB
July 4 2008
It was announced that Diomansy Kamara has had an operation on his knee that will leave him out of action for six months. The injury was to his cruciate ligament during a game against Liberia playing for his home nation Senegal. With Brian McBride back in the USA, Fulham's target man options are not looking good.
After paying £6 million from West Bromwich Albion at the beginning of last season, Kamara failed to set the world on fire under Laurie Sanchez, scoring just two league goals. His performances towards the end of the season seemed better including the unforgettable two goals scored against Man City in what was for most Fulham Fans, the match of the season. The hopes for the new season were that either he found his form with a better manager or was sold to help fund a fresh line of attack. Sadly neither will happen as we wait for a painful rehabilitation period, and look to January for a return to full training.
So far, no out and out strikers have been signed to replace Brian McBride, and without Kamara it leaves Healy, Johnson and Nevland with the burden of scoring goals. Healy does have his flashes of brilliance, but never duplicated his scoring ability with the Northern Ireland team here in SW6. Johnson remains in the unproven category, with many fans seeing his signing as a mistake. This leaves Eric Nevland, who has impressed many with the relatively few minutes on the pitch he has had, but really he must be filed under 'untested' for now.
Roy seems to be pointing at Zoltan Gera as a possible striker along with Clint Dempsey, but in reality do we want attacking midfielders always stepping up because of our lack of forwards? Definately not in my opinion, we need signings now so they can train with the rest of the squad, and gel well in time for the opener against Hull.
View a Printer Friendly version of this Story.
The Striker situation at FFC for the next season
Super Fulham (IP Logged)
04/07/2008 20:16
The Striker situation at FFC for the next season
Sorry, only registered users may post in this forum.