Goodbye and Thank you to Brian McBride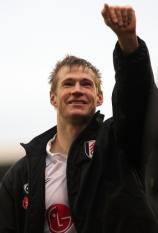 McBride Celebrates
By JB
May 28 2008
Brian McBride, the Captain of Fulham Football Club has decided to end his playing days at the Cottage after leading the cub to a historic come back, saving it from relegation. The 35 year old American has decided that his last years as a top flight player will be spent in America, looking for role in an MLS club.
Brian signed for Fulham in January 2004 for $1.5 million, about a £1 million then, from the MLS. After spells at Everton and Preston North End, Craven Cottage became The American's English home as he spent next four and a half years playing an integral role in Fulham's Premiership campaigns. Well loved by the fans as a committed and talented player, he became Captain for his last season only to suffer an appalling freak injury while scoring a goal against Middlesborough in August. The club sorely missed his steadying presence as the season went from bad to worse. His return from injury in February was celebrated by the fans, and a goal against Everton in March marked a true return to form. More important goals followed against Reading and Birmingham and he remained the talismanic leader when Fulham eked out a victory against Portsmouth.
I guess he wanted to go out on a high, with his stock at a good value. If we had gone down, would he have stayed to help us return to the premiership? Probably not, as he didn't want to be approaching his 36th birthday at the end of next season looking for a club in the U.S. He has returned successfully from injury, captained his team to what is considered one of the best comebacks from almost certain relegation and is free to go. The press that Fulham have had has been the most we've had in quite some time and no one in the MLS could have missed the fact that an American was an instrumental part in our survival. He will be worth alot more negotiating a contract now than this time next year.
I am sure that all Fulham fans would like to thank Brian for his service to the club and send him off with our best wishes and good luck for his next venture across the pond.

View a Printer Friendly version of this Story.
Goodbye and Thank you to Brian McBride
Cottage Chronicle (IP Logged)
28/05/2008 19:21
Goodbye and Thank you to Brian McBride
Sorry, only registered users may post in this forum.