Welcome to the new unofficial Fulham FC site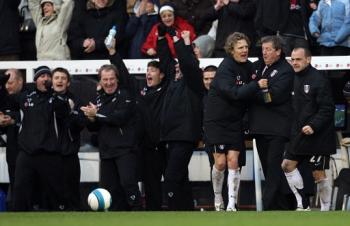 Celebrations begin in Por
By JB
May 26 2008
Welcome to all the users and guests of this new Website. Over the summer we'll be looking forward to the new season in the Premiership, passing comment on the new signings and saying goodbye to others who are being let go! Comments will also be welcome as soon I get to grips with the technology! This is an unofficial site where we will try to get news and comment to Fulham supporters whether they live in SW6 or throughout the world. The summer can be a slow time for some fans, missing the week in and week out highs and lows of the English Premier League, FA Cup or even the sometimes much maligned League Cup, but this is the time where managers up and down the country use their nouse, negotiating skill and clever use of funds available to rebuild or maybe galvanize their squad. In Fulhams' case, this is somewhere between the two. Roy has proved that the players he had at the end of the season can win games, so he doesn't want a 'firesale' of players and a start from scratch attitude. We all know that that can lead to disappointment! Team gelling is not something that can be achieved by use of a cheque book and shouting at people during training. The balancing act Roy Hodgson has perform is one of maintaining that team spirit of "The Great Escape" while replacing players that have underperformed with ones that perform reliably. All this on a budget that cannot be compared to many other super rich Prem teams. We shall see....
View a Printer Friendly version of this Story.
Welcome to the new unofficial Fulham FC site
Cottage Chronicle (IP Logged)
26/05/2008 20:28
Welcome to the new unofficial Fulham FC site
Re: Welcome to the new unofficial Fulham FC site
26/05/2008 21:30
Welcome, to the world of sportnetwork.
---
Sorry, only registered users may post in this forum.