Views as Unlucky Boro Concede in the Final Minute.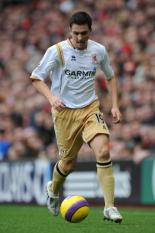 Downing - Speculation.
By Luke Sandelands
August 23 2008
Boro may consider themselves unfortunate not to have come away with something from Anfield after a somewhat promising performance against Liverpool. To say this match came as a reality check would perhaps overlook the game though, as impressive performances were to be found that were displayed in the Tottenham game - not to mention that Boro were in the lead until Carragher's 86th minute drive.
The 90th minute saw the game swing in favour of Liverpool with an angled shot from a previously lacklustre Steven Gerrard snatching all three points. Boro's opening goal in the 70th minute was scored from 22-yards out by Mido, who it must be said looks to be in impressive form upon his return bagging two goals in the past two games.
The result see's Boro slip to 11th for the time being with more matches to be played in the Premiership this weekend - although it could be argued that table positions aren't worth being considered at this early stage. One worrying aspect that surrounded this match was renewed speculation surrounding Stewart Downing with Liverpool once again being strongly linked to the England International. While Gareth Southgate has always stated Downing would not be sold, this is a worrying prospect for Boro fans, and it is certain that it would be costly for us if he were to leave. It seems that we are perhaps running out of steam in the final moments of the game, with our incapabilities being punished properly at Anfield, where they perhaps weren't in the home game at Tottenham last week. Hopefully Southgate will be able to ensure a more capable defensive performance in the final minutes for the Stoke match on the 30th. It's still early days so we can only hope to get back on track next week.