Aston Villa and Boro agree fee on Luke Young.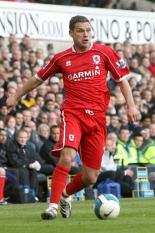 Luke Young
By Luke Sandelands
August 7 2008
In a move that has astonished many Boro fans, it appears that the ever reliable performer of last year, Luke Young will shorly be swapping Teesside for Birmingham a mere ten days before the start of the season. The fee is thought to be in the region of £5 million, which if true would double that which Boro paid to Charlton of £2.5 million.
Whilst the sale of Mark Schwartzer without the purchase of a new goalkeeper perplexed many, this leads to further questions about the abilities of the Boro back line, which it could be argued lacks experience and depth. If and when the sale of Young goes through, this could open the door to injury plagued Tony McMahon, but with his unfortunate injury record perhaps the purchase of an experienced new right back will be essential to provide healthy competition, and ensure safety if McMahon's fitness is not consistent.
With distinctive gaps appearing in the Boro backline, it's worrying that perhaps where we had our midfield frailties last season, this season it looks possible that our defensive inabilites may hold us back from the target of a top half finish, and even a UEFA cup spot. While We have a strong defensive core with David Wheater, and Robert Huth in the centre and steady performers like Chris Riggott, this latest revelation shows a potential lack of depth on the wings.
The abilities of our youngsters may be Boro's answer to the forthcoming Young sale. In the recent friendly at Darlington particularly impressive were centre back Rhys Williams, and left back Joe Bennett. These two showed sparks of talent that could lead to them being first team performers in the not so distant future. However it may be imperative that they be played in their preferred positions to enhance their development - perhaps this was a stumbling block for Andrew Davies who it could be argued was never able to reach his full potential. With the new season fast approaching it will be interesting, if uneasing to see how Middlesbrough and Gareth Southgate tackle the developing issues.