Possible rule breaches exposed in World Cup bid inquiry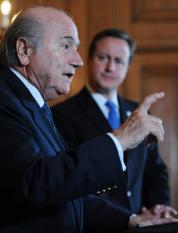 By Jemma Tappenden
May 27 2011
An inquiry into claims of improper behaviour by four FIFA executive committee members during England's 2018 World Cup bid, has found evidence of several possible rule breaches. The inquiry was set up after accusations towards the four executive committee members were made by former Football Association chairman Lord Triesman.
The report, which was conducted by barrister James Dingemans QC, was sent to FIFA today.
Triesman alleged in Parliament earlier this month that FIFA vice-president Jack Warner and three other FIFA executive committee members made improper requests for cash or favours during England's 2018 World Cup bid campaign. These allegations are believed to be backed up by several witnesses and several other pieces of evidence, including an email from Warner to Triesman asking the FA to pay for Haiti's World Cup television rights.
Dingemans has not been able to reach a conclusion about whether any wrong doing has been committed, as he does not have jurisdiction to talk with the three executive committee members. However, he has highlighted several with the current ethics code which he believes should be addressed by FIFA.
The timing of the report could hardly be worse for the members involved, as it coincides with another scandal which sees Warner, current FIFA president Sepp Blatter (pictured above with British Prime Minister David Cameron during England's failed World Cup bid) and FIFA Presidential candidate Mohamed Bin Hammam before an ethics committee hearing on Sunday.