Blog: 2018 World Cup Bid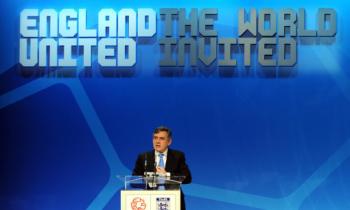 Gordon Brown speaks
By Jemma Tappenden
May 20 2009
Three Lion's will be following England's 2018/2022 World Cup bid every step of the way with our very own blog. So if you want to keep up to date with the bid that could see football's biggest competition grace the shores of England for the first time in over 50 years, visit this page for regular updates.
May 2009
With many of England's 1966 World Cup winning squad present, the official bid to host the 2018/2022 World Cup kicked off at Wembley Stadium. It was a carnival affair, with David Beckham and Gary Linekar - amongst many other current and Ex England players, joined together with the local community to get things under way.
It seems some dangerous lessons from the past have been learnt. The new campaign slogan "England United, the world invited" graced the stage. The old 'football's coming home' approach dropped - It is felt that the age old argument that England gave football to the world and therefore deserves the right to hold the World Cup simply won't wash any more.
The face of the bid will be David Beckham, and in a rare display of unity Sir David Richards (Chairman of the Premier League), Lord Brian Mawhinney (chairman of the Football League) and Manchester United Chief Executive David Gill, all appeared on stage together. Even British Prime Minister Gordon Brown made an on stage appearance - he was also incidentally the only person to mention the now taboo 'football's coming home'.
There is an air of optimism that England stands a good chance - more so as the world seems agreed that after tournaments in Brazil and South Africa the 2018 World Cup should return to Europe. But England face strong competition from Russia and a joint Spain-Portugal bid.