player ratings: Sunderland v Wolves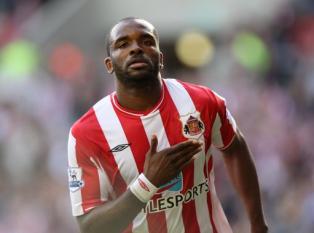 Darren Bent
By The Black Cats
September 28 2009
Here are yesterday's player ratings thanks to Rockaway from the SMB.
Gordon - 7 - Looked reasonably assured, unlucky for first goal i thought. Made a couple of good catches, slowly become more confident every game for me.

Da Silva - 6 - Distribution is usually excellent, positional sense wasn't very good, but i'm pretty sure he's a centre half and not a right back, so i'll forgive him for that, was tired in the 2nd half and Jarvis started to get abit of joy out of him, rightly taken off.

Mensah - 7 Looks very solid, some sloppy distribution at times, what he lacks in height he makes up for with his leap and speed, looks like he could be a very good aquisition for us given time.

Turner - 7 - Personally thought he was shite first half, couple of poor clearences and a late tackle that he didn't need to do, could have given a pen away for the push on Doyle(?) Also got away with an arm in Doyles face, which he milked. Much better 2nd half, capped a good 2nd half performance with a goal.

Richardson - 6 - Isn't a left back, Wolves identified him as the weak link early on and tried to exploit it, but credit to him he dug in and did a job, linked up with Reid quite well on a couple of occaisions, but i still think he's learning on when to push forward or not, positionally i thought he did very well, horrible backpass for their 2nd but did enough for me to make up for it.

Malbranque - 7 - Old iron lungs lasted a full 90mins, didn't look too tired either, think he struggled with Da silva behind him and looked to do abit too much at times, usual performance from him.

Cana - 7 - Didn't play very well but he's constantly talking and agree with previous posters that at 2-2 he was one of the main reasons we managed to dig in and sort ourselves out, thought he played better as the game went on.

Cattermole - 6 - Looked abit off the pace in the first half, caught in possession a few times, but won it back most of the time, couple of good runs forward and was unlucky not to score in the 1st half.

Reid - 7 - Looks so confident at the moment, thought he'd have ran at Halford more, especially after Halford was booked, another assured performance... Crossing however wasn't as good as it has been in recent matches.

Bent - 9 - Love him like, got 2 goals (own goal, whatever) Movement is class, him and Jones starting to develop a partnership and put his shift in tracking back when Malbranque/Reid were out of position. Thought he half scuffed the pen but it was right in the corner anyhow.

Jones - 8 - Blokes near me slagged him off for 90mins, even after he'd scored 2 goals they called him lazy. He needs to realise if he doesn't try to jump when a defender is on his back, he'll not get a freekick.... If he does try and jump he usually gets one. Thought he was far from lazy today and his work rate was excellent.

Subs:
Henderson - 6 - Tried a few passes which didn't come off, like through balls and the such, don't think hes big enough to start in CM yet, but showing good potential. Full of running and can only get better.

Ferdinand - 7 - Deserved to be dropped, came in at right back and was generally very good, made an important block with his first touch and bounced back well after poor form.

Ref:
Mr Mason - 2 - what a joke.
View a Printer Friendly version of this Story.
player ratings: Sunderland v Wolves
The Black Cats (IP Logged)
28/09/2009 08:24
What do you think? You can have your say by posting below.
If you do not already have an account
Click here to Register
.
Sorry, only registered users may post in this forum.
More Sunderland headlines
Sunderland Poll