Sodje wants Bury stay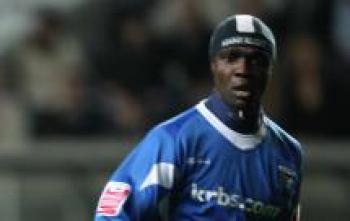 By Jack Nolan
May 5 2008
Gillingham defender Efe Sodje has said that he wants a permenant move to Bury in the summer after Gillingham manager Mark Stimson told him he didn't figure in his first team plans. Sodje was signed by former Gillingham manager Ronnie Jepson, but moved out on loan to Bury after falling out of favor after suffering a nasty head injury at former club Yeovil Town.
Sodje has been on loan at Bury since Febury making sixteen appearances forthe League Two outfit, and he has impressed during his league spell.
Speaking to Burys official club site following the last league game ofthe season, Sodje said: "Was that my last game in a Bury shirt? It might be, but I will be speaking to the gaffer over the week and we will see whathappens."
"It's 50-50 at the moment because I still have an 18-month contract with Gillingham, so I will just have to see what happens there.
"Gillingham were relegated, that's bad, but we will just have to wait and see what happens.
"The fans have been great with me, but if I am here next season it will be a different season and I want to be stronger than I am now.
"Fingers crossed I would love to join Bury because the manager at Gillingham has told me that he doesn't want me to play for them. It's my future, so I will have to find out what I have to do."
The veteran defender is waiting as to whether Bury boss Alan Knill will sign him permenently from recently relegated Gillignham.