Jarvis to stay after all? - Rumour Mill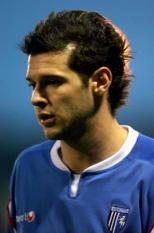 Will he stay or go?
By Jack Nolan
April 30 2007
All of the rumours including summer signings and whether a player by the name of Matt Jarvis will stay at Priestfield for another season. Also whether St. Johnstone's Jason Scotland will be heading to Priestfield and what Conference striker is rumoured to sign for The Gills. ---

MATT JARVIS TO STAY

Aparently, Gillingham star Matt Jarvis told Gillingham fans after the 1.1 draw at Bournemouth that he "loved the club" and that isn't leaving just yet.

This could suggest that the Gillingham star could stay on with The Gills for another season at least.

JEPSON WATCHING SCOTLAND IN SCOTLAND

We all know Jepson was away on a scouting mission last Saturday, and the clubs official site said he was in Scotland. Rumours are now suggesting that he was watching St. Johnstones Trinidian striker Jason Scotland as a possible new signing for the summer.

Jepson then left Scotland to go to Spain, maybe we will see Ronaldinho at The Priestfield next year!

MACDONALD TO SIGN FOR THE GILLS

Gravesend's star striker Charlie MacDonald has been constantly linked with a move to Gillingham this season, and it appears that he most probably will leave Stonebridge Road following their failure to make the play offs.

Gillingham appear to be one of many contenders for the striker who has netted 28 goals for the Fleet this season.

---

Remember these are all just rumours...