Roberts staying with reds (for now)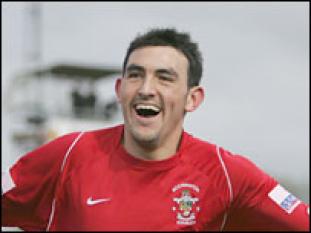 Gary Roberts
By Martyn Robinson
July 25 2006
Yeovil Town have ended there interest in Stanley winger Gary Roberts after they recently had a £20,000 bid rejected. The 22-year-old - is now under fire after rejecting Stanley's offer of a new contract
Yeovil Town have ended there interest in Stanley winger Gary Roberts after they recently had a £20,000 bid rejected. The 22-year-old - is now under fire after rejecting Stanley's offer of a new contract.
Stanley boss John Coleman fumed as Roberts went public about wanting to move and we believe that Roberts was fined a weeks wages, but that has not yet been confirmed.
"The bottom line is that the Roberts deal looks like a dead duck," Yeovil's football general manager John Milton told BBC sport.
"Negotiations have come to a stumbling block - so we are bow leaving that one alone, and moving on to other things."
More Accrington Stanley headlines
Accrington Stanley latest threads
Accrington Stanley Poll