Latics linked with Tim Howard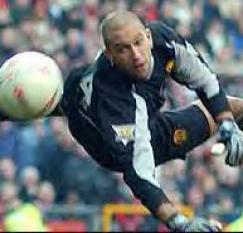 By Alan G
April 10 2006
Wigan Athletic have been linked with Manchester United 'keeper Tim Howard. The United number two is the latest in a string of players to be linked to Latics after manager Paul Jewell confirmed he will be dipping into the transfer market in the summer.
Having joined from Metro Stars back in July 2003 he has been pushed out of the first team picture by Edwin Van der Sar and has only featured in one Premiership match this season.
Latic's boss also stated he will be looking to bolster the forward line-up during the summer months: "We've only scored 38 goals this season - the worst record in the top half of the table - and that's not going to be enough next season.
"I've already one eye on that and it's somewhere we definitely need to improve, that's not just the strikers but throughout the entire team."
Meanwhile, Leighton Baines is doubtful for Saturday's visit to Newcastle United after limping off the field against Birmingham City with a hamstring strain.